Auckland's reputation as a bustling international hub and its potential as a young, vibrant city is enough to appeal to any modern developer, and this Melbourne-based developer Michael Mai, the founder of ICD Property and chief executive of Mai Group, is looking to make a splash with a sleek 48-level tower in downtown Auckland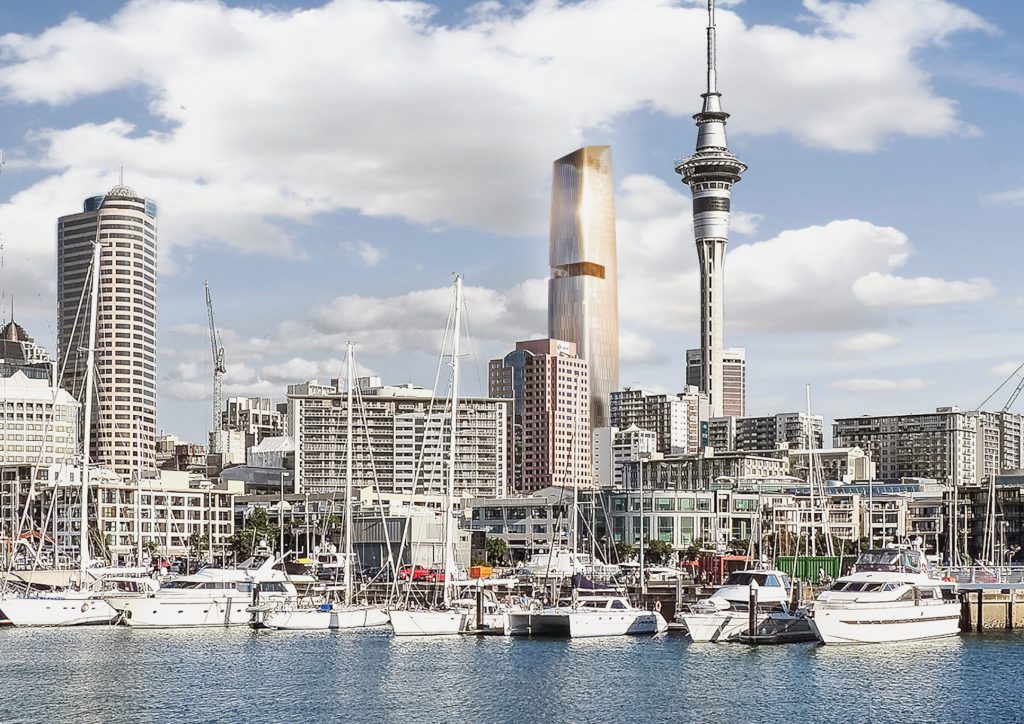 ICD Property's development at 65 Federal Street is the Melbourne-based company's first step into the New Zealand market and its first international acquisition, a significant milestone in the firm's journey from humble beginnings.
ICD Property got a foothold in Auckland last year after acquiring a carpark at 65 Federal Street from SkyCity Entertainment Group for $40 million.
Their Federal Street project will soon be a sleek 48-level tower in downtown Auckland, comprising a unique collection of mixed-use assets.
Once complete, the tower will offer approximately 226 apartments, a 233-room 5-star hotel, ground floor marketplace, and a rooftop garden.
To design the world-class project, ICD Property selected Woods Bagot and Peddle Thorp for the new 180m tall high-rise, after the company launched a design competition and invited five leading international architecture firms to submit their designs.
ICD Property encouraged the competing firms to envision an innovative building in the centre of Auckland that could transcend traditional planning rules.
The successful design from Woods Bagot and Peddle Thorp's collaboration highlights a strong sense of place and community through an extensive use of dramatic curbed and pleated timber. The tower also emphasises activating the streetscape by creating an active urban people space that is inviting to the public.
ICD Property's vision for Federal Street is to create a development that will integrate well with the surrounding community and balance Auckland's rich and unique heritage with its identity as a future-ready city.
A key component of the design is the ground floor, dubbed the "Market Place", which will showcase New Zealand's finest produce and businesses through restaurants, bars and fresh produce stores.
The Federal Street address is only 70 metres from Auckland's Sky Tower and New Zealand's leading entertainment precinct. The landmark Federal Street project has been tipped to transform the city's skyline and contribute to its evolving streetscape.
The Mayor of Auckland, Phil Goff, has already praised 65 Federal Street for providing much needed residential and hotel accommodation that will help establish Auckland as an internationally competitive city to host global events.
Auckland currently has demand for 10,500 dwellings in the city's CBD by 2020, with only 3,750 in the pipeline.
The significant investment made by ICD Property highlights the level of investor confidence in Auckland and will provide hundreds of jobs during and beyond construction of the tower.
ICD Property currently has a $2.3 billion portfolio of hotels, resorts and housing projects underway across Australia and New Zealand, including a complete refurbishment of Sydney's City Tattersalls Club, Aspire Melbourne a Melbourne high-rise tower, and Gen Fyansford a 1,300-lot community in Geelong.
Michael has always instilled a collaborative and community-driven focus into his company, ultimately leading ICD Property to become a successful Melbourne property development company recognised for innovation after only 10 years in operation.
While it is yet to be officially named, 65 Federal Street seeks to offer views of Auckland's natural features, including the city's harbour and volcanic cones. Once complete, the tower will be one of the first to capitalise on Auckland's potential as an emerging world city.
ICD Property's next step is to finalise the project design with Woods Bagot and Peddle Thorp, and work collaboratively with the local New Zealand team to cement their vision.
The Federal Street tower is scheduled for completion in 2024.