A leading New Zealand access control specialist company, HTS, has introduced a product realisation service that helps building designers, refurbishers and managers to show how good security entrances can look when applied to their own projects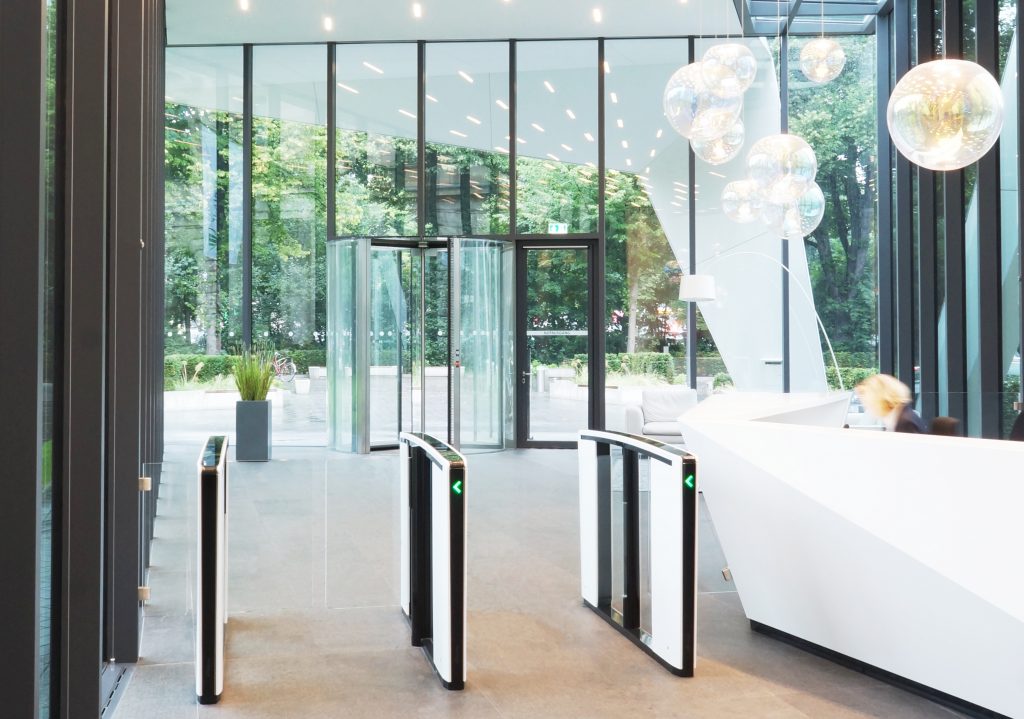 HTS distributes Boon Edam security entrances throughout New Zealand, giving the Kiwi market access to a range of architecturally harmonious and stylish products used globally by scores of Fortune 500 companies in 27 countries, including corporate HQs, legislatures, government agencies, diplomatic posts and public and private facility mobility hotspots prone to unwanted attention.
HTS Managing Director Noel Marharaj says Boon Edam security entrances combine practicality and performance with the corporate statement of architectural style required for some of the world's biggest commercial, data centre, financial, government, industrial, health, hospitality, retail, telco, and internet and cloud computing technology companies.
Blending function with style
Now HTS is partnering with Boon Edam Australia to introduce the new Product Realisation Imagineering service by which building specifiers, suppliers and building managers can submit graphics of their planned entrances areas for HTS and Boon Edam to complete with a graphic containing the security entrance leader's solution for the particular security need presented. 
"Boon Edam have a head start in supplying security entrances to companies in New Zealand and Australia because Boon Edam is  the only company out there with a truly comprehensive range of security entrances, extending from building entrance and internal traffic flow through to intense protection of core assets," says Mr Maharaj.
These security entrance systems are all designed to the highest standards of crisp European style and functionality, says Mr Maharaj, "But we have found that a recurring consideration for architects, engineers, facility managers, infrastructure managers,  security consultants and other specifiers is how to visualise the product blending in with their particular architectural style and the corporate style of the building and the rest of the entrance."
Imagineering
"That's why we've introduced the Product Realisation Imagineering service through which they can sends us a photo or computerised graphic representation of their current entrance, and we'll add to it to show them what it could look like with preferred security products installed. This Imagineering service – which is ideal for their client presentations – facilitates the implementation of creative ideas in practical form," he says.
Those wishing to use the service send the picture or graphic of the existing entrance area to Boon Edam Business Development Manager Darren Assey, who will liaise regarding the visual, security and specifier needs, then return a finished product representation.
Mr Assey says the design of entrance security technologies has advanced significantly over the past decade – "Good security entrance design has reached a point where, instead of designers having to minimise how out-of-place security looks, the entrances actively enhance the overall look of an area. Boon Edam has invested time and experience to become a global leader melding style with functionality, and we'd like to show you just how good security can look on your project." 
A layered approach to entrance security
Based on its experience in 27 countries, Boon Edam advocates a layered cost-effective system of security entrances to data and sensitive business facilities, increasing in sophistication and features as employees and visitors advance from the entrance areas of private or government facility involved, through internal trafficked areas and on to the core areas requiring greatest protection.
Boon Edam says the layered approach has been proven globally to be the most effective and cost-saving alternative to oppressive, unnecessary and impossibly expensive blanket systems of manned security needed for around the clock security as globally interconnected businesses move to 24/7 trading cycles.
"And for corporate and public buildings, this security cannot be ugly or threatening. It has to be architecturally crisp and harmonious with the style and presentation of the leading organisations involved."
In response to the need to provide high security even at times when security staff are scarce, Boon Edam's latest architecturally harmonious Tourlock, Circlelock and Lifeline ranges of entrance security product families provide security for not only the entrances to data centres, but also can be used for company perimeters, corporate HQ entrances and designated building facility entrances, as well as other sensitive interior areas.
"And using security entrances 24/7 instead of relying solely on expensive manned security can be not only the best way of layering security, but it can save money. The ROI on security entrance systems is both quick and cost-efficient, compared with the rising costs of manned security."
"This has been our experience globally to date, and the savings trend can only accelerate as businesses increasingly move to 24/7 business cycles and decentralise their data services."
Ed MacDonald
HTS Group Product Sales Development Representative
+ 64 27 383 3344
[email protected]
www.htsgroup.co.nz
About Royal Boon Edam
With work environments becoming increasingly global and dynamic, smart, safe entry has become the centre of activity in and around many buildings. Royal Boon Edam is a global market leader in reliable entry solutions. Headquartered in the Netherlands, with 140 years of experience in engineering quality, we have gained extensive expertise in managing the transit of people through office buildings, airports, healthcare facilities, hotels and many other types of buildings. We are focussed on providing an optimal, sustainable experience for our clients and their clients. By working together with you, our client, we help determine the exact requirements for the entry point in and around your building.
You can find more news about Boon Edam on www.boonedam.com.au/news
Alastair Russell
National Sales Manager
+61 (0)450 924 882
[email protected]
www.boonedam.com.au