Outdoor advertising specialist VMO (Val Morgan Outdoor) has extended its network of digital office tower screens to Wellington and now has 80 screens on 50 buildings in New Zealand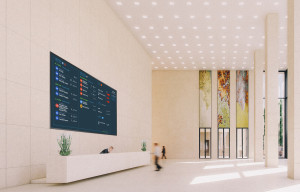 The company is also going small a year after launching the concept on this side of the Tasman, and more obviously so to office workers, as it targets a new and potentially bigger market in corporate lobbies.
VMO Managing Director Anthony Deeble says the company was at the forefront of the digital out-of-home market in New Zealand with VMO Work.
"It's a unique media platform connecting advertisers to a valuable audience of working professionals," he claims.
"It plays full-motion video as well as up-to-date news and sports, financial information, weather and the property's directory information.
"Strategically positioned in high-traffic thoroughfares in office buildings, such as lift wells and lobbies, the network provides an informative & engaging media channel for professionals.
"We plan to at least double the number of screens in premium office buildings in both the North and South Islands by the end of the year."
VMO spent $2 million creating its New Zealand network, and Deeble says the company had visions of leading this market internationally.
"Our vision is to be a world leader in digital outdoor using world-class technology & innovation."
The VMO Work business model is based on over 14 years of digital out-of-home experience in Australia.
Last year it launched DART – Digital-outdoor Audiences in Real Time – to New Zealand.
"DART – VMO's exclusive real-time audience measurement system – uses audience measurement devices to anonymously analyse audiences to demonstrate who has viewed a campaign and how long they have engaged," Deeble explains.
"Across the VMO Work network, DART measures 15,000 New Zealand viewers/week."