For many, an office plant is an obvious companion in the workplace. It's a tradition which goes back a long way and now it is also one which is becoming the topic of formal investigation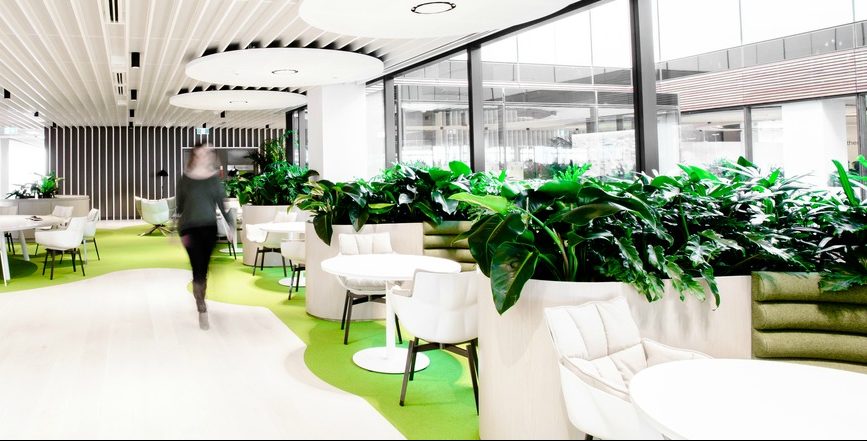 Taking the notion of a little greenery somewhat further than the fern in the corner, biophilic design is an increasing trend around the world which seeks to increase occupant connectivity to the natural environment through the use of direct nature, indirect nature, and space and place conditions.
Locally, Ambius New Zealand provides indoor plants and landscaping services to a wide range of corporate clients. Head of Sales Capability and Marketing Kennedy Short says there is no better way to experience direct nature inside a building than through the presence of great-looking greenery, but stresses that there is a little more to it than that.
"It does go a little further than just a few plants in the office," she notes. "And that's made clear through our partnership with the BRE Biophilic Office Research Project, which seeks to capture a full range of human sensory measures in the office.
This project centres on a 650m2 1980s office building which will be refurbished according to biophilic design principles. How far beyond 'just plants' biophilic principles extend is apparent in the elements which this project will explore and measure: daylight, lighting, indoor air quality, acoustic, thermal and humidity comfort are all under consideration.
Furthermore, human factors, such as health, wellbeing and workplace behaviours, will be assessed and measured.
"The biophilic office project is deepening the evidence base for the impact of interiors on occupant health and wellbeing. Plants are a key component of biophilic design and Ambius will ensure we maximise the opportunity, guided by research evidence, to create positive, healthier and more energising workplaces of the future."
Kennedy Short says office occupants will undergo confidential health evaluations and sign up to a series of online questionnaires and surveys. Through the use of by-now common wearable technology which tracks multiple vital statistics, the researchers are monitoring key health metrics, with an expectation that the results will enable the creation of more ergonomic offices space.
Facilities managers, landlords and building owners keen to learn more about biophilia can catch up with Ambius New Zealand at Facilities Integrate, the trade only exhibition for the construction, technology and management industries. The company joins 130 exhibitors in demonstrating the latest trends and developments in creating buildings which are better for people and the environment.
Kennedy Short adds that as a 50-year old company operating in 16 countries, Ambius offers a long history of research into the benefits of plants in buildings and biophilic design. "In some respects, this project is formalising what a lot of us already know instinctively: greenery, sunlight and fresh air are good for you and will contribute to a healthier and happier workplace.
But 'healthier and happier', and indeed 'good for you' are subjective metrics. Putting numbers to it delivers a new level of confidence which justifies investment."
Facilities Integrate takes place 25 – 26 September 2019 at the ASB Showgrounds in Auckland.
Attendance is free for all registrations prior to midnight 23 September.
Tickets for those registering after this date are priced at $25. For more information or to register your interest, visit https://www.facilitiesintegrate.nz/