At the Housing Industry Association's 2023 national Australia conference, the winners of the 2023 HIA-CSR Australian Housing Awards were revealed, with judges calling this year's overall winner 'a once-in-a-lifetime build'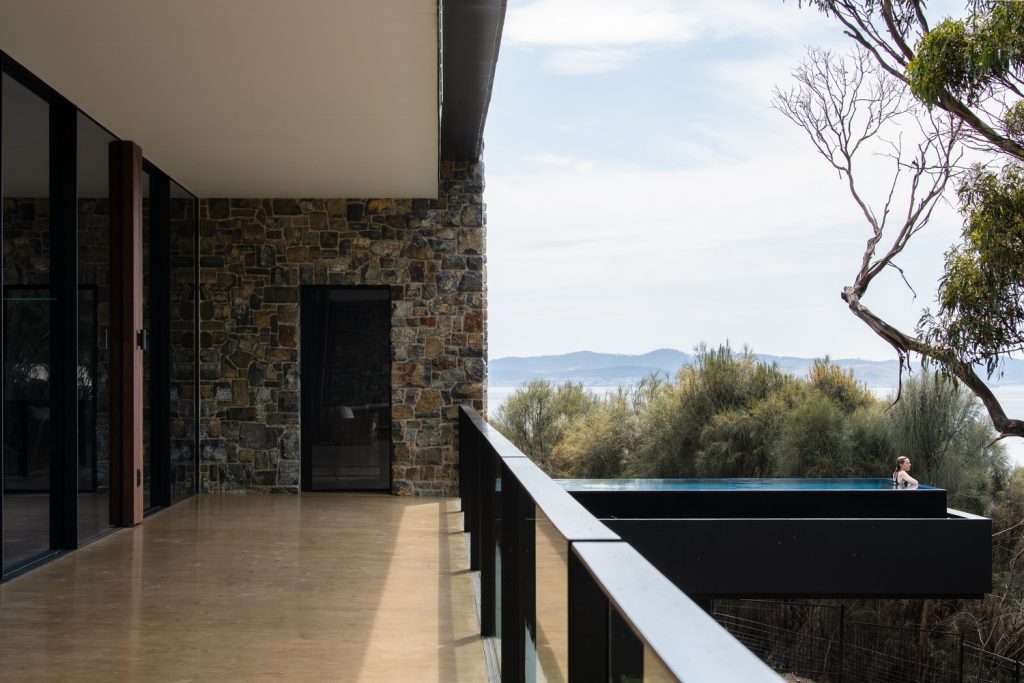 The winners of the 2023 HIA-CSR Australian Housing Awards were unveiled before 550 industry leaders at the awards ceremony held as the final night of the HIA 2023 National Conference on Hamilton Island.
Described by Housing Industry Association (HIA) judges as 'a once-in-a-lifetime build', a cliff-hugging home by Tasmanian builder Lane Group Construction has been named the 2023 HIA-CSR Australian Home of the Year – the highest residential building award bestowed each year by HIA.
The spectacular single-level winning home is anchored to its windswept, bushland location by a series of heavyset stone pavilions.
An abundance of floor-length glass windows create a serene atmosphere for the owners and their guests to enjoy, connecting them to the magnificent, rugged coastline of the Derwent River from all public and private living areas.
Burnished caramel concrete floors and spotted gum timber cladding serve to perfectly match the earthy tones of the expertly wrought stonework featured so prominently in the home, while the cantilevered indoor/outdoor infinity pool, spa and sauna are an indulgent addition to this entertainer's domain.
The home also won HIA Australian Custom Built Home, partnered by ActronAir.
HIA's Managing Director Graham Wolfe said the HIA-CSR Australian Housing Awards recognise the best in Australia's residential building industry.
"HIA is committed to recognising the outstanding achievements of our members. The HIA-CSR Australian Housing Awards allow us to acknowledge their skill and their commitment to quality in design, material selection and construction. Our Awards' program brings together members who excel in building exceptional homes, kitchens and bathrooms and run highly successful businesses.
"HIA Award winners build with exceptional workmanship; demonstrated in projects that push the boundaries in design and innovation. It is my absolute pleasure to congratulate each winner for their hard work and commitment to excellence," Mr Wolfe added.
The HIA-CSR Australian Housing Awards recognise exceptional projects, businesses and people from all around Australia.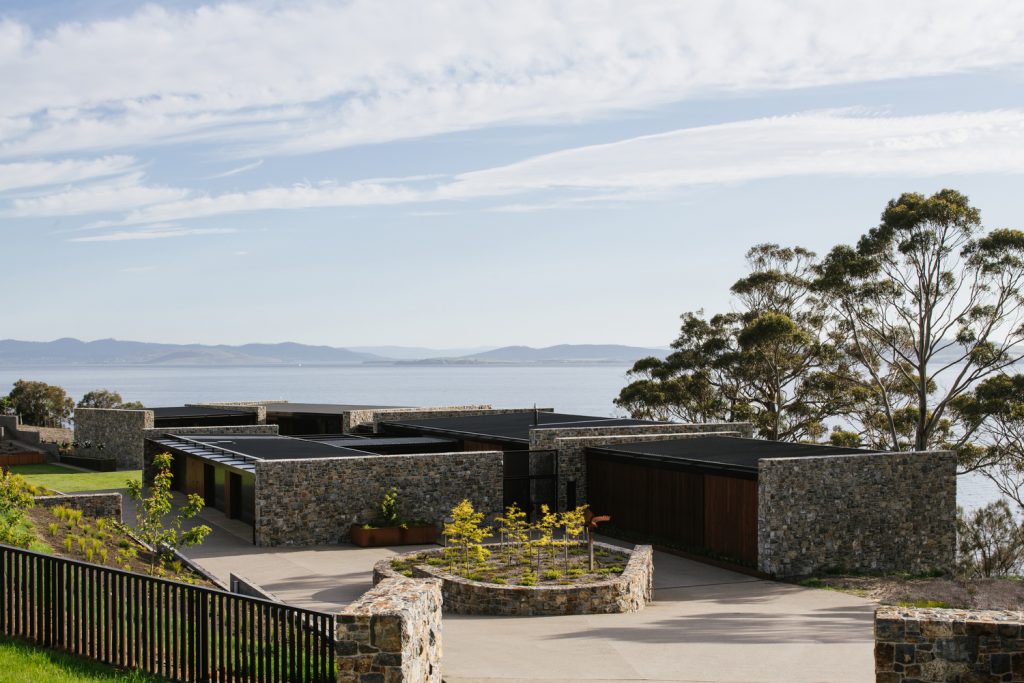 Apprentice Bethany Mercieca from NSW was named the HIA Jim Brookes Australian Apprentice of the Year for a strong work ethic and dedication to her craft. She has built meaningful relationships with co-workers, suppliers and clients through excellent communication. The category is partnered by Stratco.
A sophisticated restoration and addition of a heritage-listed bluestone residence by Victorian builder BCG Constructions won HIA Australian Renovation / Addition Project, partnered by COLORBOND steel. The home is a breathtaking fusion of old-world glamour and ultramodern elegance.
Western Australia's Ultimo Constructions was named HIA Australian Professional Small Builder / Renovator for the fourth time, reinforcing their reputation for offering personalised service, expert advice and a partnership approach to the building process. The category is partnered by Companion Systems.
Craig Linke Bespoke Building from South Australia took out HIA Australian Kitchen of the Year, partnered by Robam Kitchen Appliances, for a stunning kitchen finished in a symphony of aged brass, granite and exotic marbles, with a custom brass canopy.
Hunter builder Greenbuild Constructions won HIA Australian Bathroom of the Year for a moody aesthetic master bathroom that feels luxuriously spacious and light. The category is partnered by HIA Business Solutions. Greenbuild Constructions also won the consumer-voted HIA-CSR Australian People's Choice Home
The HIA-CSR Australian Housing Awards are the ultimate platform to showcase the talents of the nation's top builders and designers. Winners are selected from state-based finalists, with awards in 23 separate categories including Professional Builders, display home, apprentice, bathrooms and kitchens. The Awards are partnered by leading building products company CSR.
2023 HIA-CSR Australian Housing Awards winners:
2023 HIA-CSR Australian Home of the Year, Partnered by CSR – Lane Group Construction, Tasmania
2023 HIA Australian Apartment of the Year, Partnered by Toyota for Business – K2 Built, New South Wales
2023 HIA Australian Apartment Complex, Partnered by Daikin Australia – Coben Building, Victoria
2023 HIA Jim Brookes Australian Apprentice, Partnered by Stratco – Bethany Mercieca, New South Wales
2023 HIA Australian Apprentice Host Trainer – Jethro Urwin, Apex WA Carpentry Solutions, Western Australia
2023 HIA Australian Bathroom of the Year, Partnered by HIA Business Solutions – Greenbuild Constructions, Hunter
2023 HIA Australian Bathroom Design, Partnered by HIA Business Solutions – Catherine de Meur Interiors, New South Wales
2023 HIA Australian Custom Built Home, Partnered by ActronAir – Lane Group Construction, Tasmania
2023 HIA Australian Display Home, Partnered by Clipsal by Schneider Electric – South Coast Constructions, South Australia
2023 HIA Australian Kitchen of the Year, Partnered by Robam Kitchen Appliances – Craig Linke Bespoke Building, South Australia
2023 HIA Australian Kitchen Design, Partnered by Robam Kitchen Appliances – Darren James Interiors, Queensland
2023 HIA Australian Outdoor Project, Partnered by James Hardie – Lane Group Construction, Tasmania
2023 HIA-CSR Australian People's Choice Home, Partnered by CSR – Greenbuild Constructions, Hunter
2023 HIA Australian Project Home, Partnered by The Australian Reinforcing Company – The Rural Building Company, Western Australia
2023 HIA Australian Professional Major Builder, Partnered by Companion Systems – Carlisle Homes, Victoria
2023 HIA Australian Professional Medium Builder / Renovator, Partnered by Companion Systems – Hudson Homes, New South Wales
2023 HIA Australian Professional Small Builder / Renovator, Partnered by Companion Systems -Ultimo Constructions, Western Australia
2023 HIA Australian Renovation / Addition Project, Partnered by COLORBOND steel – BCG Constructions, Victoria
2023 HIA Australian Small Business Management, Partnered by HIA Insurance Services – Jenny Matek, AM Bathrooms + Projects, New South Wales
2023 HIA Australian Spec Home, Partnered by Stratco – Averna Homes, Western Australia
2023 HIA Australian Specialised Housing, Partnered by Merlin Garage Door Openers – Alroe Constructions, Queensland
2023 HIA Australian Townhouse / Villa Development, Partnered by Brickworks – Futureflip, New South Wales
2023 HIA Australian Townhouse / Villa of the Year, Partnered by NatHERS – Mactech Constructions, Queensland