ANZ economists expect Australian house prices to bottom out 10 per cent down in the second half of 2021, while construction is expected to drop a further 14 per cent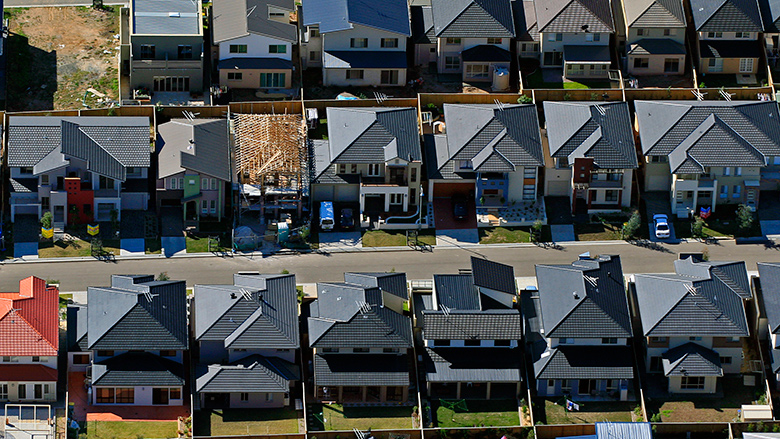 Driving the dwelling price decline are a number of Covid-related factors including the deteriorating labour market, elevated uncertainty as well as weak investor appetite.
Construction is also facing strong pandemic headwinds with a cumulative decline for the sector expected to reach 25 per cent by mid-2021.
This comes despite the HomeBuilder grant which will "limit but not fully offset" the decline in housing construction.
Putting further pressure on the housing market is the near expiry of government job stimulus, superannuation withdrawals, mortgage deferrals and rental negotiations.
"We anticipate prices will bottom out in the second half of 2021 as the labour market improves, but the recovery is likely to be relatively gradual given that we expect unemployment to stay above 8 per cent until end-2021," ANZ economists Felicity Emmett and Adelaide Timbrell said.
The ANZ national dwelling price forecast remained unchanged at -10 per cent however capital cities price changes were tweaked with Melbourne prices forecast to fall 15 per cent, Sydney 13 per cent and Brisbane 6 per cent.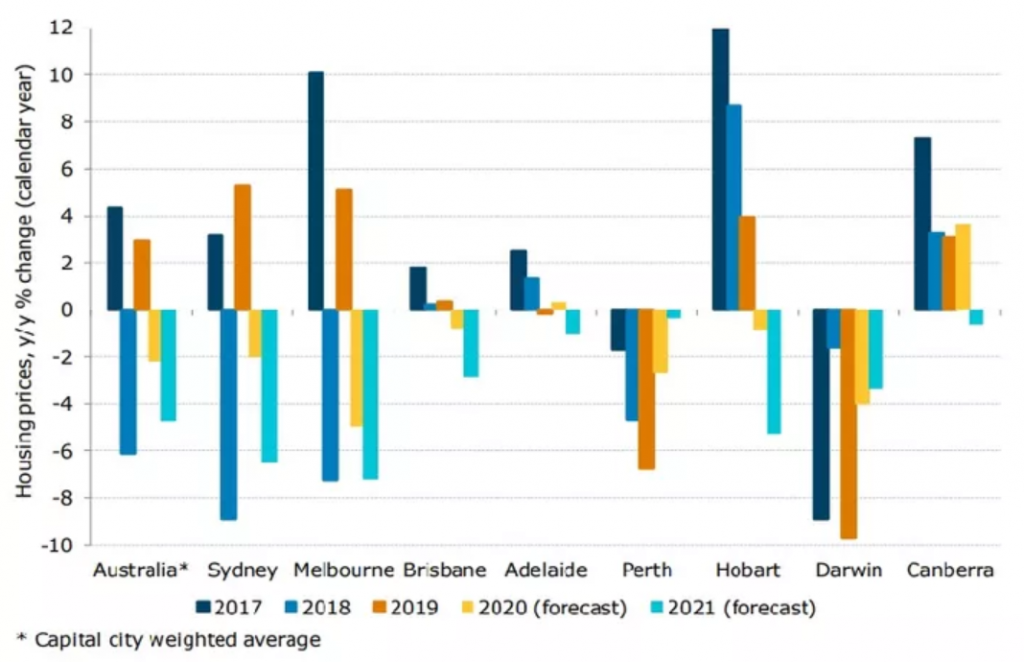 Source: CoreLogic, ANZ Research
The most recent results from ANZ show Melbourne dwelling prices fell 2.2 per cent between March and July, the biggest fall of any jurisdiction with lockdowns likely to exacerbate the situation.
The confidence hit from Victoria and the international border closure will remain a negative for the Sydney housing market for a while which remained flat before falling 0.6 per cent in July.
The impact was less felt in Queensland with prices remaining steady however building approvals were down 7 per cent in the March quarter and 17 per cent compared to the same period last year.
The ANZ economists said falling population growth will continue to constrain housing demand with the number of people leaving Australia outnumbering the people arriving by 150,000.
"Closed international borders have removed the largest source of Australia's population growth," Emmett and Timbrell said.
"In 2019, net overseas migration accounted for around 240,000 people or nearly two-thirds of Australia's population growth.
"The drop in population will remove a major driver of economic growth and housing demand, at least for a period."
According to the report migration and job losses had also disproportionately hit the rental market and will continue to impact future construction levels.
How is New Zealand faring in comparison? These Property&Build stories investigate:
Property investors unswayed by Covid uncertainty– CoreLogic finds that existing owner-occupiers are largely staying put at present, with first home buyers and especially mortgaged investors raising their market shares (as well as the number of purchases).
Property market continues to defy expectations– The latest data from the Real Estate Institute of New Zealand (REINZ) reports sales volumes and prices up, but for how much longer will this high last?