NZ's housing market has clearly been through some significant disruption in recent months and unfortunately there's more to come, but this hasn't stopped mortgaged property investors from raising their market shares

Existing owner-occupiers are largely staying put at present, with first home buyers and especially mortgaged investors raising their market shares (as well as the number of purchases). At 27% in July, the share of purchases going to mortgaged investors was the highest in four years, and shows that their appetite remains pretty strong, even despite government policy measures over the past few years that have raised the costs of being a landlord. Provided that the current move to level 2 & 3 is short-lived, there's little reason to expect these buyer patterns to change in the near term.
NZ monthly sales volumes (Source: CoreLogic)
As the first chart shows, sales volumes in June and July had rebounded strongly from the earlier collapse, but we're now likely to see activity drop off again on the back of the latest move up the alert levels (especially in Auckland)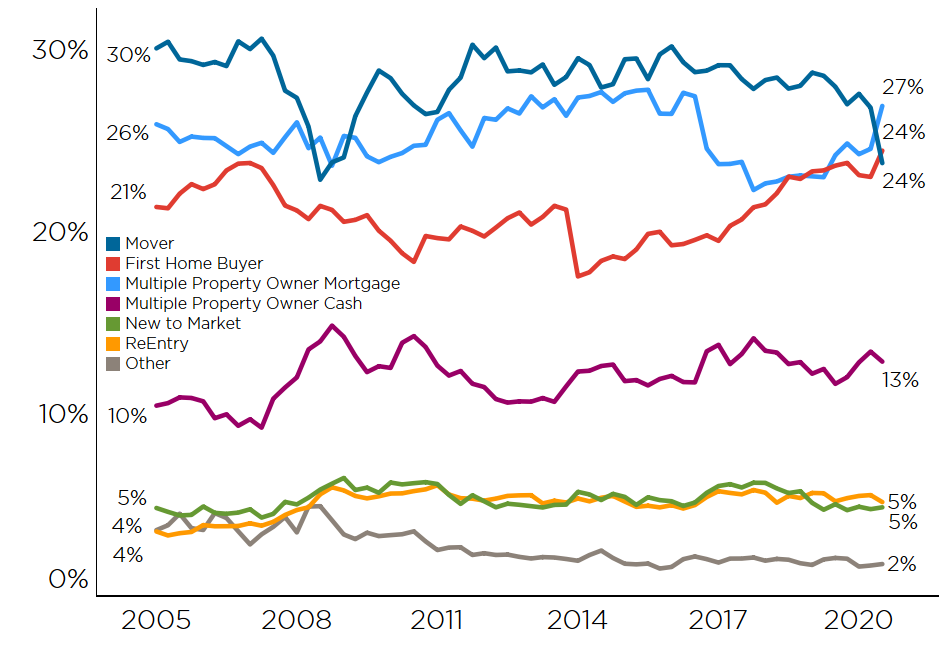 NZ % share of purchases (Source: CoreLogic)
However, it's not only the number of property transactions that has seen significant shifts in recent months, but also the percentage market shares for various buyer groups. Indeed, according to the CoreLogic Buyer Classification series, movers' (i.e. existing owner-occupiers who are relocating) share of purchases dropped from 28% in Q1 2020 to 27% in Q2, and has started Q3 on an even softer note – down to just 24% in July (see the second chart). Due to factors such as already-high debt levels and/or fear about finding the ideal next property in a listings-constrained market, many would-be movers are sitting tight at present.
Meanwhile, mortgaged investors' (multiple property owners/MPO) share of purchases has continued to rise lately, reaching 27% in July, the highest figure since Q3 2016 – when the RBNZ imposed a 40% deposit requirement on investors (although of course the LVR speed limits have currently been removed until at least May next year). At the same time, first home buyers' (FHBs) share of purchases has also held up, edging higher to 24% in July. Anecdotally, some people who would otherwise have headed off on their OE are now choosing to buy a house instead.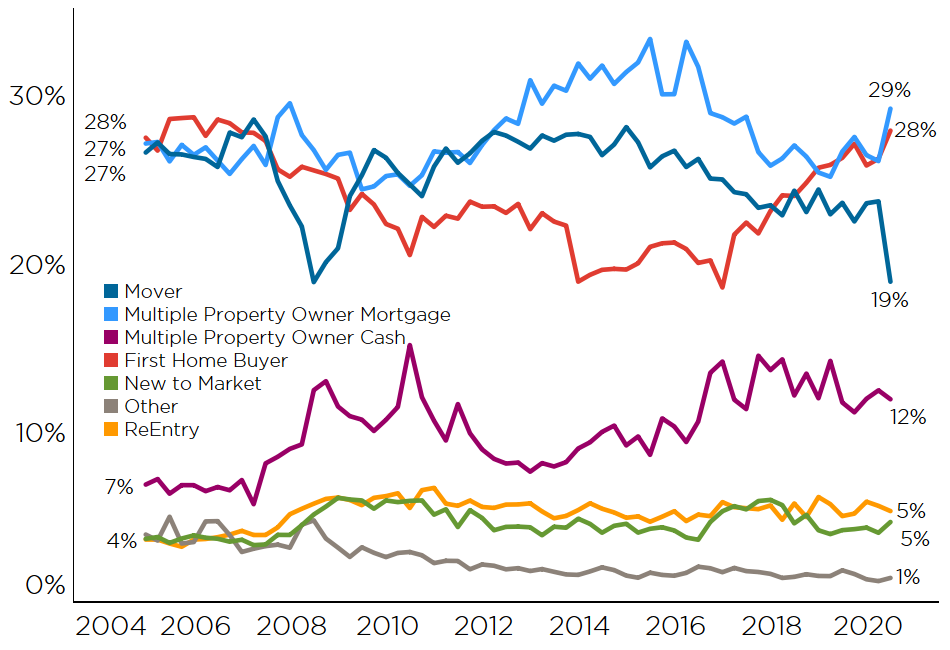 Auckland % share of purchases (Source: CoreLogic)
Those national patterns have been replicated in Auckland, with movers' market share dropping lately, but the figures for mortgaged investors and FHBs continuing to improve (see the third chart). In fact, the number of property purchases in Auckland by both mortgaged investors and FHBs in July was also higher than a year earlier.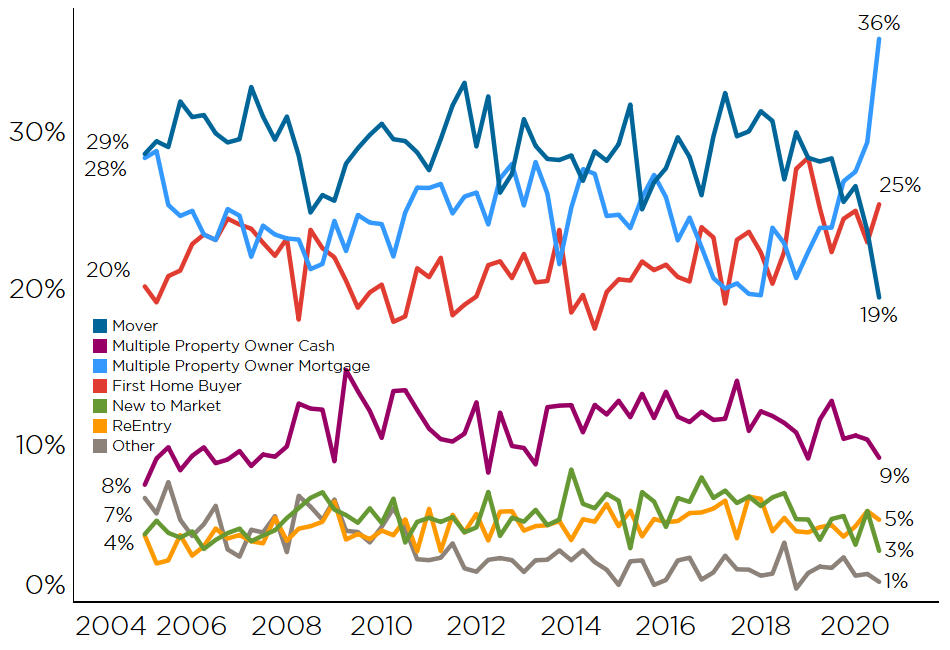 Dunedin % share of purchases (Source: CoreLogic)
Dunedin is another clear example of the continued appetite of mortgaged investors (see the fourth chart). Indeed, they got off to a very fast start in the third quarter, accounting for 36% of purchases in July, as well as a higher number than a year ago. This is a pretty notable result, especially given some signs of weaker property prices (which might ordinarily make investors cautious) as well as still-restrained lending policies at the banks.
Looking ahead, after a period where optimism had returned, we're obviously now in a new phase of uncertainty and downside risks to property market activity, if not prices too. That said, the two-week extension of the wage subsidy (to 15th September) and the same for the mortgage payment deferral scheme (to 31st March next year) should both help to soften the blow.