New Zealand's largest owner of inner-city business space plans to further expand Wellington's Bowen Campus with two new high-performance buildings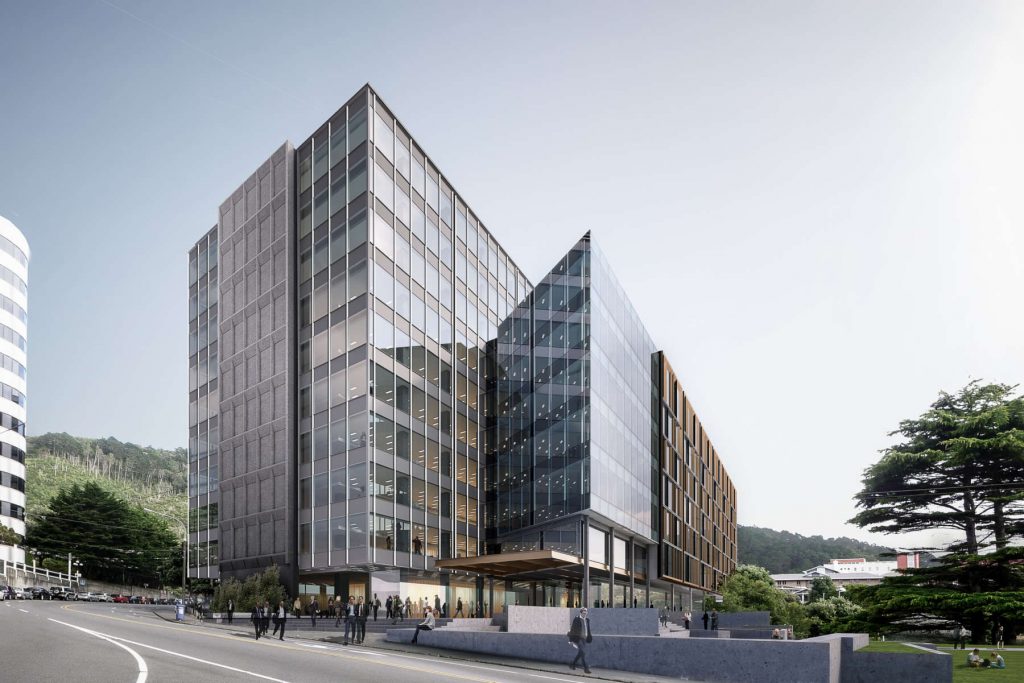 As the owners of the Bowen State and Charles Fergusson buildings at 40 and 44 Bowen Street, Precinct Properties' plans for the new buildings are set to increase the location's offering with an additional 21,000sqm of office space, which on completion will result in a workforce of 5,000 across the four buildings that comprise Bowen Campus.
Precinct Properties CEO Scott Pritchard says, "We've seen fantastic uptake in leasing from government agencies for the Bowen State and Charles Fergusson buildings, which are set for completion in quarter four 2018 and quarter three 2019, respectively and are leased until 2037 and 2033.
"40 and 44 Bowen Street felt like the natural next step in the reinvigoration of the Bowen Campus, giving us the opportunity to expand the area and deliver more premium office space and amenity to the Wellington workforce."
The location offers an attractive work environment for both corporate occupiers looking for high-end office space and government agencies wanting close proximity to the Beehive and nearby government departments.
"With a short walk to the CBD and public transport, and access to a network of laneways that will incorporate retail, cafes and other amenity, the area is desirable for a diverse range of tenants.
Pritchard adds, "With office vacancy in Wellington at record lows, we're seeing strong demand for high-performance workspace and have had a large amount of interest from both private businesses and government agencies for offerings like 40 and 44 Bowen Street."
Modern, innovative design
Designed by Wellington-based architects, Tennent Brown, the new additions to the Bowen Campus are a product of extensive research into the needs of modern businesses.
Tennent Brown Director Ewan Brown says that providing an attractive and lively work environment will have a positive impact on productivity, staff retention and businesses ability to attract talent for the buildings' tenants.
"40 and 44 Bowen Street have been designed to cater to the demands of the modern workforce.
"Large, open floorplates allow tenants to tailor their fit outs to their needs and floor to ceiling glass with ceiling heights of 2.95m maximises natural light and views."
Pritchard adds that Precinct Properties has seen demand for flexible workspace increase across its portfolios, "Flexible design allows businesses to quickly adapt and change.
"We've seen growing demand for businesses looking to implement agile working strategies and we believe the layout for 40 and 44 Bowen Street reflects and will accommodate this demand."
Advanced earthquake protection
The design for 40 and 44 Bowen Street employs a number of features to minimise earthquake damage and will be the first new builds in Wellington to employ 'fluid viscous dampers' in the structural frame.
The dampers dissipate seismic energy to protect the building and fit-out and prevent the accumulation of damage over time.
Structural engineers, Dunning Thornton, worked alongside Tennent Brown to deliver this seismic technology, which will enable business resilience for the buildings' tenants.
Dunning Thornton Directo Alistair Cattanach says, "In addition to resilient steel framing, the viscous dampers will increase the buildings' performance significantly in a seismic event.
"The technology applied to these buildings will allow the structures to absorb seismic activity, meaning tenants are able to reoccupy the building shortly after the initial event and continue operating, even during the period of subsequent aftershocks."
Pritchard says that the thought that has gone into user experience from the design to the structural engineering of the buildings will make them highly sought-after work spaces.
"The careful thought that has gone into the design of the wider Bowen Campus also means we are able to stage the construction – beginning with 40 Bowen Street.
"We've already experienced strong interest in modern workspaces in the Wellington market and are actively seeking pre-committed occupiers before construction commences on the next stage of the Bowen Campus.
"We're focused on delivering buildings that are not just a workplace, but also offer a sense of community that makes going to work an enjoyable experience – we believe 40 and 44 Bowen Street will reflect this ethos," Pritchard concludes.
To learn more visit: