How will hotel design adapt to meet the new normal? The Property Council of Australia asked specialists from the hotel sector how hotel design will change in a post-pandemic world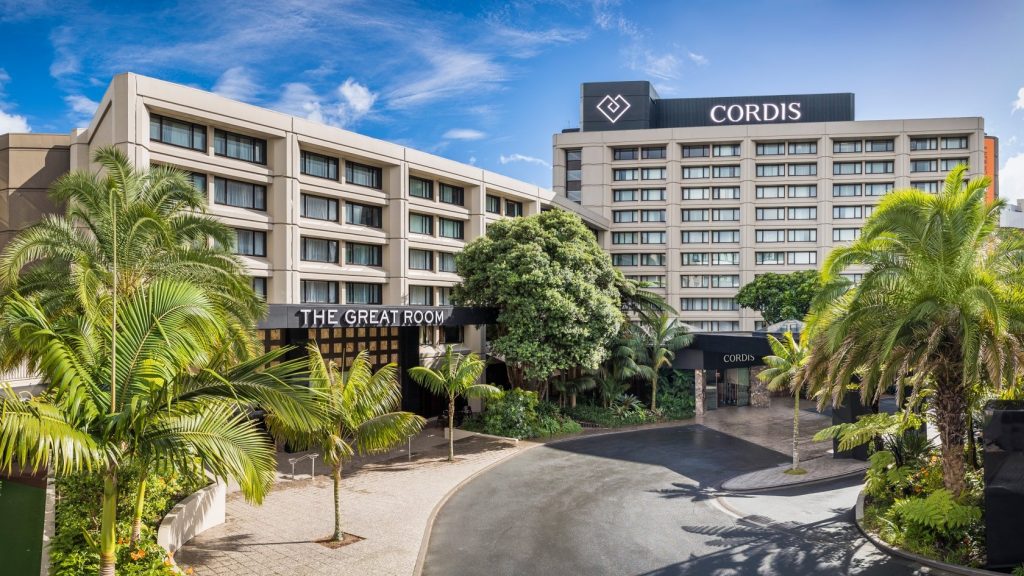 Infectious disease has always influenced the design of our built environment. Large city-shaping projects – from Central Park in New York to London's embankment – were conceived to combat cholera.
On a smaller scale, streamlined built-ins that eliminated dust and easy-to-clean white subway tiles were just some of the design ideas driven by disease.
So how will our 21st century pandemic reshape the design of hotels? Expect six trends to take off.
Touchless technology
Touchless "everything" is heading our way. Managing Director of hospitality advisory firm Minett Prime Square, Dean Minett, says touchless technology "was already being adopted to cut costs or enhance service delivery" but now "hotel brand standards" are being updated to eliminate as many touchpoints as possible, from room keys to do not disturb hangers. Minett highlights the increase in use of in-room speech recognition via Alexa or Siri as examples of how guests can now activate services in the room.
General Manager of Hyatt Regency Perth, Ribhu Chatterjee, says Hyatt is considering touchless guest entry, public bathroom fixtures and hydration stations, as well as touchless payment solutions at reception.
Pro-invest Developments is "future-proofing" its portfolio of Holiday Inn hotels with Bluetooth-enabled door locks, says Managing Director Tim Sherlock.
Meanwhile micro-hotel chain Veriu is investigating RFID-enabled door locks. Keyless entry is also slated for global rollout at Quest says Senior Design Manager Nicolas Dingle.
"This is not only a logical step from a health and safety standpoint but lends itself to other operational efficiencies," Dingle says.
Cleanliness
Will the sign of a clean room – the paper strap across the toilet seat – make a comeback? Perhaps not, but we will see more antimicrobial fabric and hard surfaces that are easier to clean.
Sanitisation stations, unobtrusive but accessible, will be incorporated near entrances, while public spaces and guest rooms will move to hard or engineered surfaces that are easily sanitised, says Hyatt's Chatterjee.
"Hyatt is investigating methods to equip fabrics and surfaces with anti-microbial features," Chatterjee adds.
Quest has opted for fixtures and finishes with antibacterial and antimicrobial properties for "many years" says Dingle.
"All our properties constructed in recent years have been fitted with anti-bacterial carpet," he says.
Veriu's Director of Operations Kyle R. Kaya expects a "rethink" of building materials – "like non-porous surfaces or the use of copper for high-frequency touch points, because of its antibacterial and antiviral properties".
Minett Prime Square, meanwhile, is working on one development where a large plush velvet curtain has been jettisoned from the design in favour of a hard surface that is easier to clean. Forget embossed and leather-bound menus too, Minett adds.
"I think disposable menus and QR codes are here to stay," he says.
Social distancing
Pro-invest's Tim Sherlock says its "too early to say with certainty what the industry's long-term design response to Covid-19 will be". But with five hotels in the development pipeline, Pro-invest has gone back to the drawing board to limit guest crowding in common areas and avoid contact around the breakfast buffet area, Sherlock says.
Minett Prime Square's Senior Consultant for design and technical services, Susan Standring, is impressed with the creative solutions already evolving to support social distancing. She highlights examples in workplace environments where the floor finishes show a "natural indication of 1.5 metres, rather than big red dots".
Standring expects a hiatus, rather than a complete halt, of hotel mainstays like the buffet breakfast. "It might be goodbye to the buffet for the moment, but my sense is that it will return with additional precautions," she says, suggesting show kitchens with more 'cook to order' menus as an example.
"People have short memories and hotels are very good at maintaining high hygiene standards," she says.
Self-sufficiency
Quest's Nicolas Dingle says serviced apartments have fared well over 2020 as guests "place increased value on private amenity such as in-room kitchen, dining, laundry facilities and balconies to minimise external contact".
"Right now, we are looking at how we can mirror this same sense of autonomy in communal spaces such as conferencing rooms and business lounges," Dingle says.
"While these areas are typically quite spacious and there's considerable room to distance oneself, we are contemplating how these spaces might eventually transform into working pods or similar," he says.
Veriu's Kaya agrees.
"Our apartments offer our guests great versatility through modular design with spaces for sleeping, sitting, a kitchenette for cooking and shelving for storage. In a world post Covid, we anticipate that people will want to use their rooms even more: for meals, exercising and working, and our hotels' design must be able to offer that".
Kaya thinks this desire for self-sufficiency will stretch beyond the guestroom.
"Public spaces in which people can have their own 'bubble' will be key," he says.
Sustainability
Minett believes future hotel guests will also be pushing for more sustainable experiences.
"We've seen images on the news – of the clear air of the Himalayas and clean water of Venice's canals – and I think more of us are focused on being more sustainable when they return to travel," he says.
Pro-Invest's Sherlock agrees. His team is keeping a close eye on customer responses. Pre-packaged single-use F&B options, appropriate for infection control today, "may no longer be desired by guests once the pandemic has passed," he adds.
Adaptability
Sherlock says Covid-19 has made it "painfully clear" that most businesses and industries are not pandemic-proof. He points to leases as an example.
"Most existing leases do not take into account the impact and effects of a global pandemic like Covid-19. This needs to change," he says.
Sherlock also suggests trends in other sectors of the property industry will intersect with hotel design.
"If working from home does become the new normal, and companies rethink the need for physical office spaces, hotels may go down the 'space as a service route', where specific rooms may be repurposed and sold as office suites as an alternative from working from home," Sherlock says.
Standring says the future of hotel design comes down to one word: flexibility.
"We need to be thinking about flexible design and planning with emphasis on movable components, diversity of seating arrangements to accommodate social distancing with ease – so if there is another pandemic we can adapt quickly," she says.
While the design of hotels may evolve, at their heart is a simple concept: hospitality.
"We can't afford to lose the human touch, or to be efficient at the expense of guests," says Minett.
"With all these changes to design, our challenge is to maintain the human touch. The people who can work out how to do that will be the most successful," he says.