New Zealand food logistics company Provida's four national distribution centres are being offered to investors through a proportionate ownership scheme.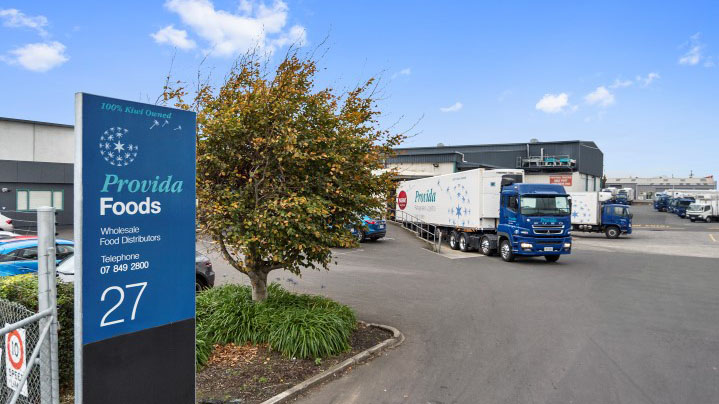 Silverfin Capital has appointed Colliers International to market the Provida Portfolio Scheme, which comprises 233 investment parcels of $50,000 each, to wholesale (including eligible) investors.
Each parcel gives investors a beneficial interest in the industrial land and buildings of Provida's well-located distribution centres in Auckland, Hamilton, Mount Maunganui and Palmerston North.
The property portfolio, sold by Provida to Silverfin for the scheme in a sale and leaseback deal for $22.2 million, has since been valued at a total of $23.15 million.
Silverfin Managing Director Cheryl Macaulay says the premises are ideally located in sought-after industrial areas, on large land holding sites, offering convenient access to distribution and transport routes across the North Island.
"We're projecting a pre-tax cash return of 8 per cent per annum (forecast to 31 March 2019), paid to investors monthly, which represents a solid return on investment."
Excellent opportunity
Colliers International Syndications Director Charlie Oscroft says it is an excellent opportunity to invest in part of an industrial property portfolio on long-term lease to a well-established New Zealand company.
"Provida is a market leader in the transportation of ambient, chilled and frozen goods across New Zealand," he says.
"The company is signed to new 15-year leases on its three primary properties, offering a total initial rental income of just over $1.4 million a year, with fixed annual rental growth of 1.75 per cent in most years.
"Each lease offers multiple rights of renewal, extending the total lease terms to 33 to 35 years.
"The buildings meet 100 per cent of new building standards, and have been designed for future expansion to allow Provida's business to continue to grow.
"Three of the properties can be further developed which gives scope for greater future rental income and asset growth."
Large landholdings
Oscroft says the syndication offer represents a rare opportunity to invest in large landholdings in New Zealand's buoyant industrial property sector without significant capital outlay.
"The industrial property market in New Zealand continues to go from strength to strength, with strong demand and low vacancy rates," he says.
"Colliers International's annual New Zealand Industrial Market Indicators Report, released earlier this month, found continued upward momentum in all centres over the past 12 months.
"The industrial markets in Auckland and Tauranga are experiencing record low vacancy rates, while prime vacant industrial space in Hamilton is being absorbed almost as soon as it becomes available."
Oscroft says the Provida portfolio consists of four prime industrial assets which have been developed for Provida's food distribution business needs.
"The portfolio offers a combined total gross floor area of 7,637sq m on just over 3ha of freehold land," he says
"All four premises are in high-value growth markets and maintained to a high standard. Each complies with New Zealand's stringent food health regulations."
Colliers International Broker Kris Ongley says the Auckland premises is located on a 9,287sq m heavy industry-zoned site at 138 Wiri Station Road, in the sought-after Manukau industrial area of Wiri.
Well connected
Wiri Station Road has benefited from road and transport upgrades and is well-connected to Auckland's motorway network and Auckland International Airport.
"The premises offer a large amount of modern cool storage and warehousing, with a desirably low office-to-warehouse ratio of 15 per cent," Ongley says.
The Hamilton property is located on a 8,040sq m site at 27 Sheffield Street – a prominent industrial and commercial thoroughfare within the Te Rapa industrial precinct.
"Te Rapa has become the prime industrial area of Hamilton, which has experienced a strengthening industrial sector over the past 24 months," Ongley says.
"Demand is expected to grow further with the completion of the Waikato Expressway, which will improve travelling times north and south."
The Palmerston North property is on a high-profile corner site at 57-65 El Prado Drive, Milson, part of the Manawatu Business Park – the region's prime industrial distribution and transportation precinct.
"Palmerston North is well-established as the lower North Island's distribution hub," Ongley says.
"The 11,535sq property is strategically located next to Palmerston North Airport, which has a 24-hour operating schedule, and close to Railway Road, next to the main trunk railway line north."
Built in 2014, the property has a new state-of-the-art cold store distribution warehouse with associated high stud warehouse space.
It is zoned for 24-hour delivery and dispatch access.
The 1,145sq m Mount Maunganui property, at 5C and 5D Macrae Avenue, is within the region's most desirable industrial precinct, close to the Port of Tauranga – New Zealand's largest in term of cargo volume.
Experienced management
The Provida Portfolio Scheme is managed by Silverfin, a licensed manager of managed investment schemes (excluding managed funds) that invest in real property.
Silverfin currently has $160 million of commercial property assets under management.
While a relatively new entrant to the marketplace in 2016, Silverfin draws on Macaulay's 17 years of commercial property and syndication experience.
Macaulay owned and managed local syndicator Commercial Investment Properties, which she later merged with KCL Property, creating the largest syndication portfolio in New Zealand at the time.
The business managed some $850 million of property when it was acquired by listed company Augusta Capital in 2014.
Macaulay says Silverfin's schemes are structured to provide investors with a cash return from commercial and industrial real estate, without the burdens of private property ownership.
"Silverfin will manage the scheme and provide day-to-day facilities and property management services for the property," she says.
"Our directors and management have considerable experience in property development, facilities and asset management, property investment, business administration and accounting."
Founded in 1991, Provida has since grown a network of distribution hubs across the North Island through growth and strategic acquisitions.
The New Zealand-owned business boasts 180 staff and a fleet of 70 dual temperature trucks.
Growth potential
Its Auckland, Hamilton and Palmerston North sites are designated as export transitional facilities, providing growth potential for future markets.
Silverfin was given access Provida's financial statements for the last four financial years.
"We are satisfied that the company has strong financial resources to meet their rental obligations under the leases as they fall due and is in a financially strong position," says Macauly.
The Provida Portfolio Scheme offer closes at 5pm on Friday, 29 September, unless extended, withdrawn, or closed earlier.
The offer of interests in the Provida Portfolio Scheme is limited to persons who are wholesale investors for the purposes of the offer in terms of clause 3(2) or 3(3)(a) of Schedule 1 of the Financial Markets Conduct Act 2013.
The 8 per cent per annum projected pre-tax return until 31 March 2019 is a projection only and the actual returns paid may differ.