Patience is essential for both buyers and sellers, with the latest data from realestate.co.nz showing the property market has slowed to a snail's pace, Hannah Franklin writes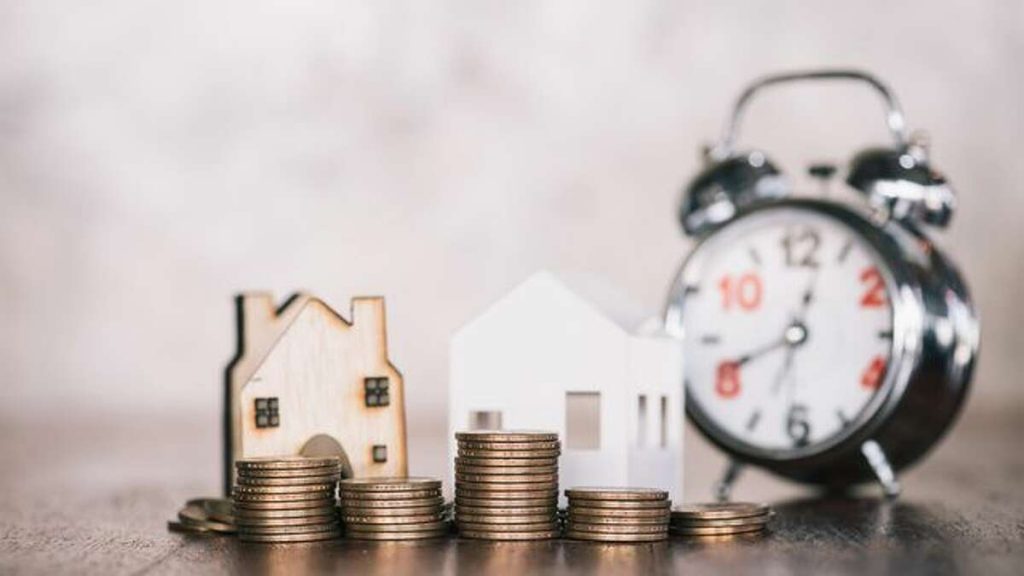 New listings to come onto the market during April were down 18.9% nationally, while stock remained up in almost all regions compared to April 2022. realestate.co.nz spokesperson Vanessa Williams says that when we see new listings drop but the decline isn't reflected in total stock numbers, it tells us that buyers are taking their time.
"Credit conditions remain tight for buyers while interest rates are uncertain for anyone without a crystal ball. Buyers are still searching for property, but many are delaying their purchase decisions given the current economic climate." March data from REINZ also confirms this, with days to sell rising to 45 days in March 2023 – 9 days longer than in March 2022.
Vanessa says that while we may no longer be in a competitive market, buyers and sellers alike do have more time to negotiate, which can be a good thing:
"I never encourage people to buy based on the market. Buying property must come down to personal and financial circumstances."
"But plenty of Kiwis have 'I wish I'd bought when' stories, and I believe there will be people who look back and say, 'I wish I'd bought in mid-2023 when the market was stable, and I had time to make a decision."
She adds that there were still 28,643 homes available for sale last month nationwide and, therefore, many opportunities to find a home and lifestyle to love. Both parties just need to manage their expectations around the pace of the market.
Display price listings overtake auctions as most popular listing type
A further signal of the market's slow pace is how Kiwis are transacting property.
"Last month, only 19.2% of residential dwellings on realestate.co.nz were listed as auctions. However, two years ago in April 2021, when the market was in full flight, auctions made up 34.8% of all listings."
"Display price has overtaken auction as the most popular listing type because, in a slower market, vendors tend to choose a sales method that is less time pressured. However, your real estate professional will be able to advise the best method of sale for your home in this current market."
"Agents always have a strong understanding of their local market, so it's good to have the professionals on the job," says Vanessa.
New listings at lowest levels for any April on record
New listings were down year-on-year in all regions last month except Coromandel, which bucked the trend with a 9.8% increase. Nine regions saw new listing levels down by more than 20% compared to April 2022.
If we look at every April since 2007, new listings were at a record low nationally and in 16 of 19 regions last month1. Only Nelson, Coromandel and Central North Island did not reach this record.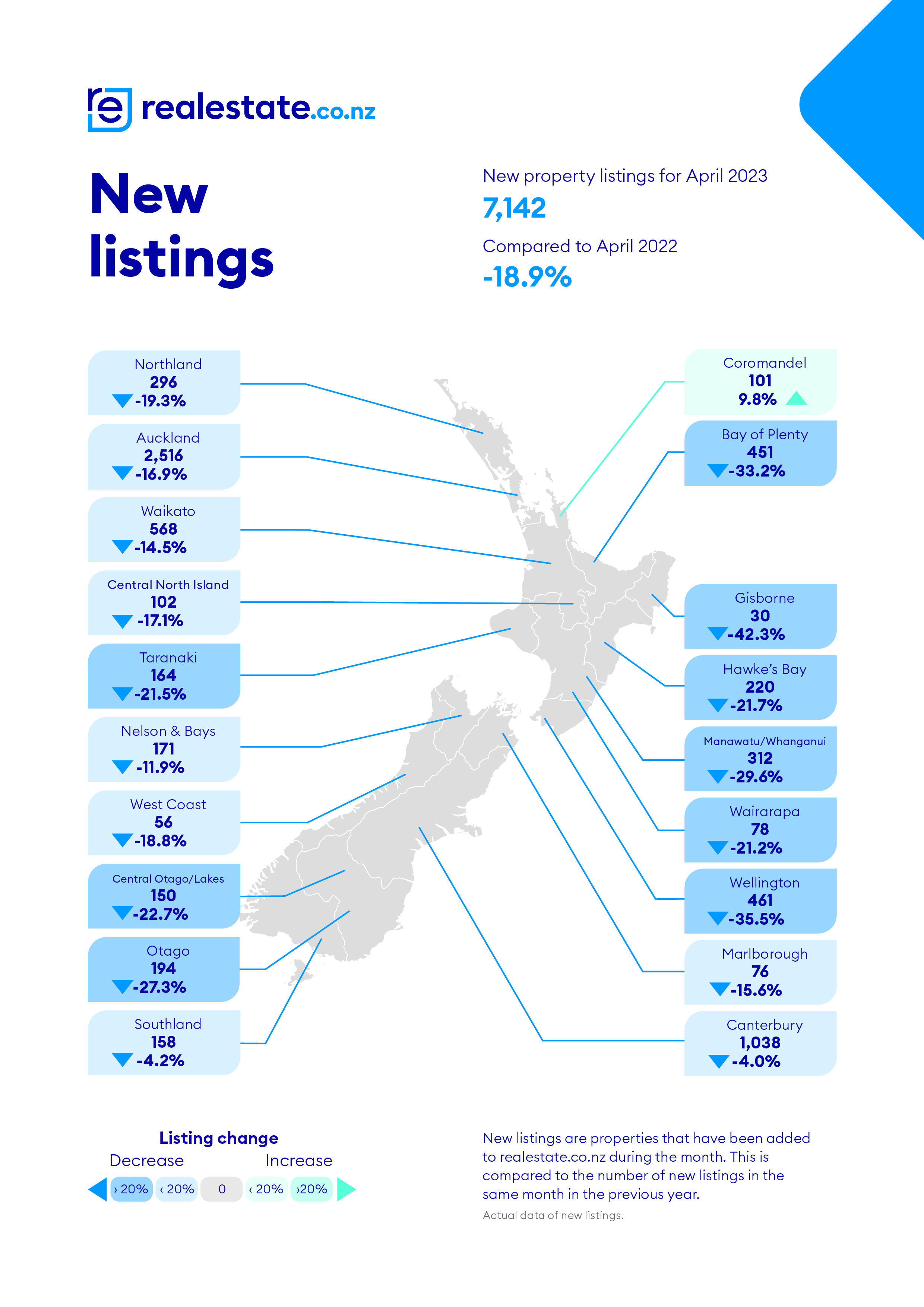 "We are hearing that many Kiwis are holding off on listing their properties for sale right now – potentially as they wait to see what will happen with interest rates," says Vanessa.
The biggest year-on-year decreases in new listings were in
Bay of Plenty (down 33.2%), Gisborne (down 42.3%), Hawke's Bay (down 21.7%), Taranaki (down 21.5%), Wellington (down 35.5%), Otago (down 27.3%), Central Otago/Lakes District (down 22.7%), Wairarapa (down 21.2%), and Manawatu/Whanganui (down 29.6%).
Excludes April 2020, which was skewed by Covid19 when lockdowns prevented Kiwis from listing their properties for sale.
Average asking prices down in all except two regions
Compared to April 2022, average asking prices were down almost everywhere last month. The only places that didn't see an annual decline were Marlborough (up 6.7%) and West Coast (up 3.6%). In Bay of Plenty and Nelson & Bays, average asking prices remained flat with marginal shifts of just -0.1% and -0.9%, respectively.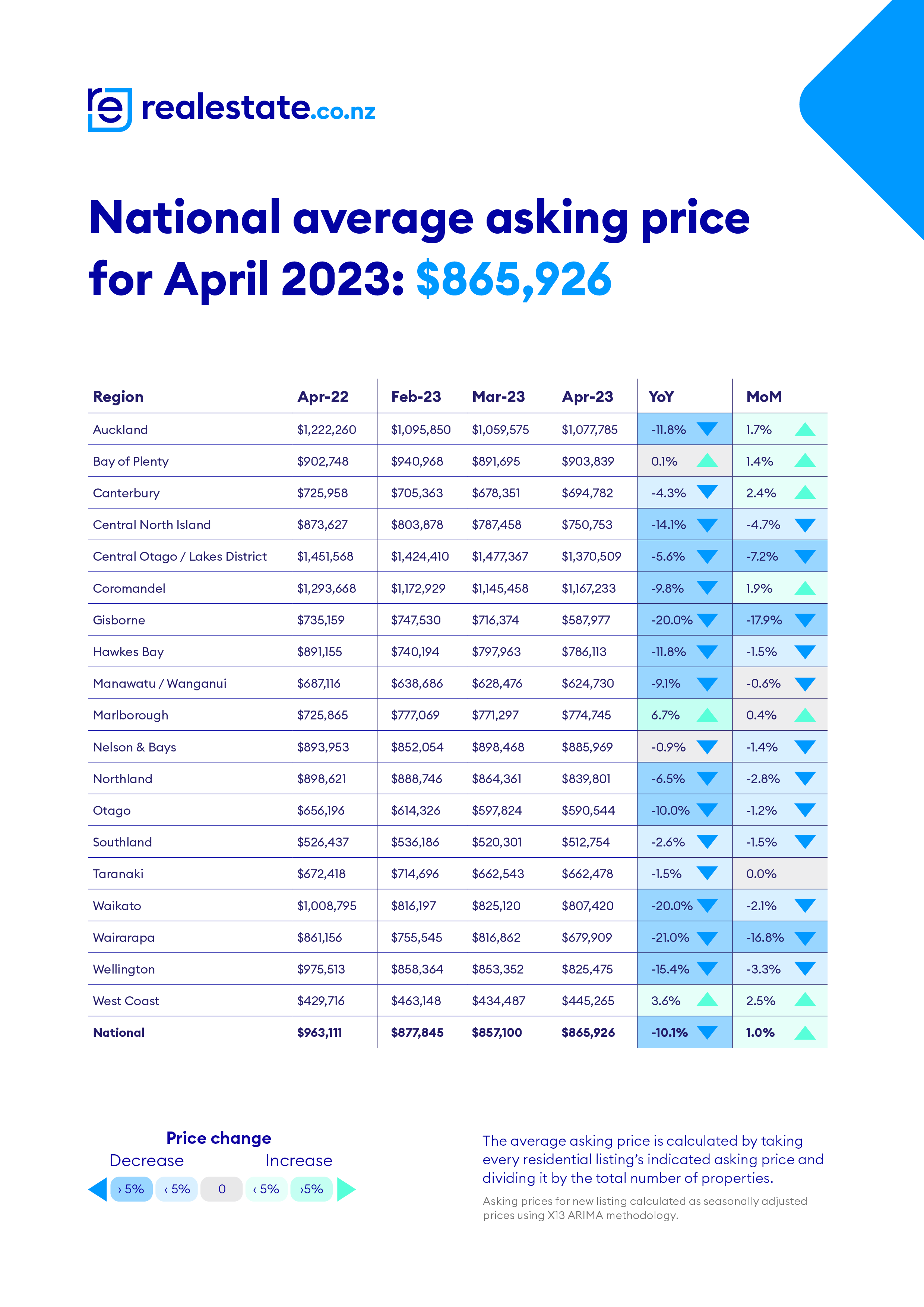 Interestingly, after hitting an all-time high in March, Central Otago/Lakes District fell into line with the national trend, with prices decreasing by 5.6% in the region during April.
Vanessa says: "the national average asking price is now almost $100,000 less than it was a year ago, and in Auckland, Gisborne, Waikato, Wairarapa and Wellington, average asking prices are more than $150,000 below what they were in April 2022."
However, Vanessa urges people to consider this in context:
"We are coming off the back of a competitive market. COVID-19 saw many Kiwis redirect travel spending into the property market. But with the borders open again, it's as though this is an overcorrection on the way back to something resembling 'normal'.
She adds that the market is also very cyclical, so seeing these peaks and troughs is not unusual.