A world-renowned visionary architect will tour five centres throughout New Zealand in October and November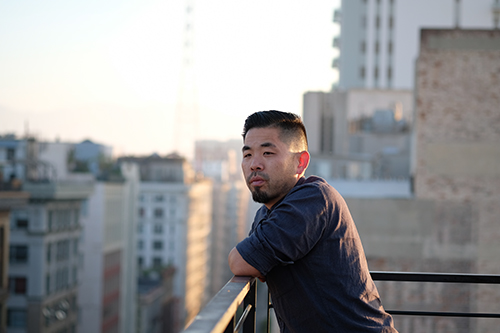 Alvin Huang isn't yet a household name, but in the world of architecture, he's rapidly becoming one of the most-respected young innovators in his field.
Alvin Huang (AIA) is a multi-award-winning architect, designer and educator specialising in 'the integrated application of material performance, emergent design technologies and digital fabrication in contemporary architectural practice'.
Founder and Design Principal of Synthesis Design + Architecture (SDA) and an Associate Professor at the USC School of Architecture in Los Angeles, Huang's list of achievements is impressive.
He was selected of as one of '50 global innovators under the age of 50' by Images Publishing in 2015, featured as a "Next Progressive" by Architect Magazine in 2014, as well as being named one of Time Magazine's 20 Best Inventors of 2013.
Huang's work has been published and exhibited widely, gaining international recognition with more than 30 distinctions at local, national, and international levels, including being honoured as the Young Architect of the Year by the American Institute of Architects California Council in 2016.
Huang's Paradigm-Shift presentation; Technology, Technique, Techné: Creation vs Contingency (Technology is the answer, but what was the question?) is thought provoking and comes at a time when the New Zealand architectural profession is being challenged to come up with inspired solutions to complex problems in the housing and construction sectors.
"It can be said that the catalyst for every major advancement within the discipline of Architecture has been a parallel advancement of technology," says Huang.
"Recently the introduction of computation within the field of Architecture has enabled new generative design techniques, new digital fabrication processes, and new performative building technologies."
"However, technology is not the end (solution), but rather the means (provocation)!" he says.
SDA's Chelsea Workspace, a home office designed using a series of alternating CNC milled plywood ribs, is just one example of how Huang and his team have used digital fabrication to materialise ideas to achieve bespoke and cost-effective outcomes.
The fluid geometric form, assembled by Cutting Edge in Oxford, maximizes natural light and responds to the client's brief for a discrete yet sculptural design solution for a home office.
"Architects shouldn't focus on the technologies themselves, but rather the mastery of the thinking behind them," says Huang.
Ground-breaking projects for Huang and SDA include The Fuzhou Cross-Strait Cultural Art Centre, created to commemorate the connection between China and Taiwan and encapsulate a myriad of cultural meanings in everything from the structure to the material selection.
The project is divided into two buildings, with each building conceptually representing a 'tree' of Chinese culture, with three levels of articulation – from Roots, defining the ground plane, landscaping and lower levels of the buildings, through Branches, which grow to wrap the cultural Fruit/seeds/tree houses that float above and connect the different components to make them one unified whole.
Paradigm-Shift National Sales Manager, Janelle Fenwick said that Alvin Huang's seminars are bound to be completely sold-out and advises industry professionals to register asap.
"There is huge excitement about Alvin's upcoming talk," she says.
"It is rare to get speakers of Alvin's calibre into New Zealand, especially to the regions."
Paradigm-Shift happens throughout New Zealand twice during the year, covering five main centres each series.
A combination of a keynote speaker session and mini-trade fair, Paradigm-Shift is designed to provide an environment where industry professionals can enhance their expertise, network with peers and discover new and innovative products from event partners.
The series is free for architects, designers and building professionals (spaces are limited) and also an opportunity for attendees to earn CPD and LBP points.
Register at: http://www.paradigm-shift.co.nz/#venues
Paradigm-Shift Series Dates:
NAPIER: Monday, 29th October 2018, Napier Conference Centre: 5:00 – 7:30pm
TAURANGA: Tuesday, 30th October 2018, Mills Reef Winery: 5:00 – 8:00pm
HAMILTON: Wednesday, 31st October 2018, The Verandah: 5:00 – 7:30pm
AUCKLAND: Thursday, 1st November 2018, Grand Millenium Hotel: 5:00 – 8:00pm
WHANGAREI: 2nd November 2018, Northland Events Centre: 4:00 – 6:30pm