Kennedy Point Boatharbour Limited has been given the go-ahead to build a new 186-berth floating marina at Kennedy Point in Putiki Bay, Waiheke Island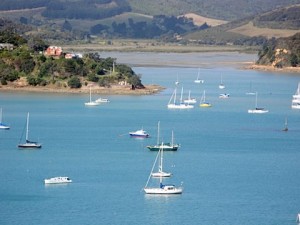 An independent panel of five commissioners delegated by Auckland Council granted the project resource consent after a week-long hearing in early April this year.
The Kennedy Point Marina will be located west of the existing SeaLink car ferry terminal at Kennedy Point and will be accessible from Donald Bruce Road to the south of the breakwater.
The marina will include:
approximately 186 berths, up to 19 pile moorings and 30 public day berths
two Swedish-designed floating breakwaters to protect the berths, floating pontoons piers and wharf
marina office, storage for kayaks and stand-up paddleboards, visitor facilities, café/public space, meeting room and a car park with up to 72 spaces.
The panel found that, overall, the marina proposal was consistent with all relevant statutory policy provisions and that its adverse environmental effects were fully addressed and either minor, or appropriately avoided, remedied or mitigated.
The hearing heard evidence that the site was the most appropriate on the island and would have the least impact on the environment.
Kennedy Point Marina developer Tony Mair says, "The hearing heard from people both in support and in opposition to the marina.
"But I believe the decision we made earlier this year to change the design from rock breakwaters to floating attenuators helped to reduce any concerns of environmental impact at the site.
"With very little expert evidence put up in opposition, we were hopeful of a positive outcome going into the hearing.
"In my 35 years of marina development, I have never seen a more appropriate site.
"The water is deep, avoiding the need for dredging, and the coastline is already modified.
"The design is also unique – like Waiheke – with all structures, including the car park, marina office, community building, breakwaters and marina fingers floating.
"These structures, to be manufactured by world-renowned company SF Marinas in Sweden, will all be towed into place, mitigating a lot of construction noise and onshore disturbance."
Auckland Council consultant planner David Wren stated in his report to the panel that he considered "that the marina will contribute to the economic, social and cultural welfare of people and communities by providing a recreational facility that has a need to locate within the coastal marina area.
"The proposed marina will assist in providing for the efficient storage of boats in the coastal marina area.
"It will also provide for a small number of jobs for those employed to operate the marina and maintain its security.
"There are also likely to be recreational and tourism benefits to having a marina on Waiheke. Boat owners will have easier access to their boats and the coast, and greater confidence in the security of storage of their boats.
"The marina will also provide another option for tourism operators and boat owners visiting the island as well as public access."
The Kennedy Point Marina Supporters' Group, which represents the more than 540 people who want a berth at the new marina, was delighted with the panel's decision.
"We are thrilled that the commissioners have taken into account that there are two voices on Waiheke," says the group's chairman, Todd Parkin.
"For the first time, the boating community of Waiheke will have world-class facilities to safely moor their vessels."
Landscape and visual expert witness for the Supporters' Group, Stephen Brown, told the panel thathe "could not think of anywhere else you could look to place a marina on Waiheke Island apart from Kennedy Point" and that he considered the proposal was "an appropriate addition to the maritime landscape of Kennedy Point."
Derek Nolan, QC, who represented Kennedy Point Boatharbour Limited, reiterated this point in his closing statement to the panel.
"While Waiheke Island is well served for passenger and vehicle access, for those arriving on their own boats, there is no marina or other permanent overnight berthing facility at Waiheke," he said.
"This is precisely what Kennedy Point Marina will provide, along with a range of other public facilities. These positive benefits are significant."
Mair expects construction to take 18 months.