Underneath the award-winning Barangaroo South precinct lies a secret city – one built around a 77,000 sqm basement as large as one of the 42-storey towers that sit above it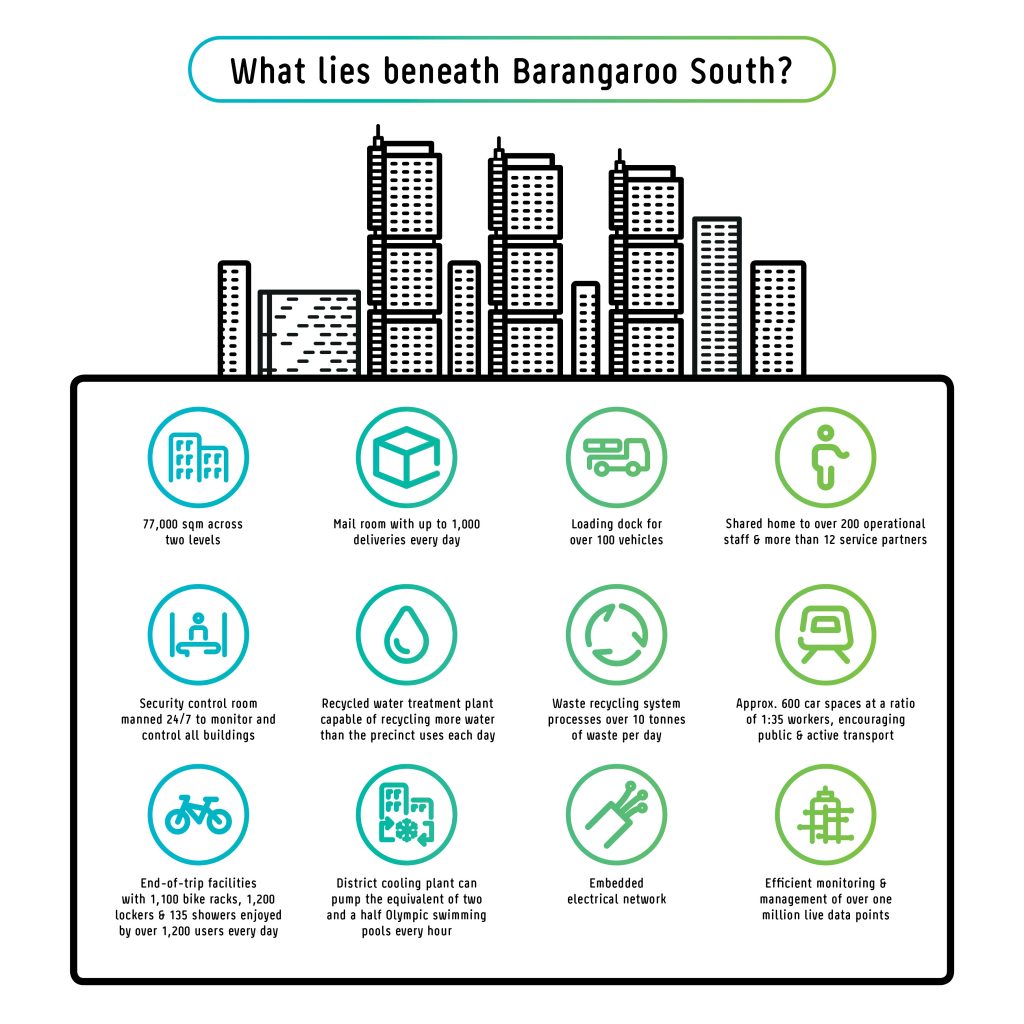 From the mail room and loading dock to the centralised operations room and waste and recycling facilities, more than 200 people and over a dozen service partners call the basement 'home' day and night.
Service partners include JLL (shared services manager), Dimeo (cleaning), E-Group (security and dock), Suez (waste and recycling), Veolia (central plant), Converga (mail room), AG Coombs & Honeywell (mechanical), Atlantic (plumbing), Alerton (systems and data integration), Frame (integrated communications network), Schneider (security systems), Schindler (elevators) and BSA (fire services).
By sharing common systems and services, the basement allows Barangaroo South to maximise its sustainability outcomes while reducing costs – a huge feat considering the precinct welcomes almost 20,000 people each day.
James Peterson, Head of Operations for Barangaroo South – Lendlease, was part of a diverse design, development and construction team responsible for bringing the basement to life.
"We wanted to create something that was an example of global operational best practice in terms of its ability to leverage scale to run more efficiently, and removing duplication, whilst creating an exciting place for people to live work and play," Peterson explains.
"Most large commercial buildings around the CBD have poor ground planes because they have to house plantrooms, driveways, loading dock entries and exits, which leaves room for only a coffee shop or two at best.
"At Barangaroo we've taken the plant, access ways, services and systems required for nine buildings, into one basement with just two entry points."
Some key features include:
District cooling plant
A typical building's air conditioning relies on cooling towers on its roof, consuming on average approximately 20,000 litres of water per day.
Rather than following this approach, the design team wanted to utilise the scale and location on the harbour of Barangaroo and developed a harbour heat rejection central district cooling plant in the basement.
By using the harbour water this saves the environment approximately 60,000 litres per day whilst also freeing up the rooftops for solar panels. 
Centralised security control room and operations room
By integrating fire, security, mechanical and lighting systems into one management control platform for the buildings at Barangaroo, the security and the operations teams and tenants can efficiently monitor and manage more than one million live data points in real time.
Rather than having to constantly monitor multiple systems, all data and screens are monitored centrally.  
Loading dock
Over 800 vehicles visit the centralised loading dock each day.
The dock management system allocates bays by location, truck size and time required – all via one manned dock entry point. 
Centralised mail room
All mail and packages for the three office towers' tenants are delivered via the dock to the central mail room.
The scale allows the approximate 1,000 packages per day to be delivered in just three to five runs.
The centralised system lets tenants include additional mail sorting criteria such as e-scanning, sorting by department or removing junk or marketing materials. 
Recycled water treatment plant
The plant is capable of creating more water than the precinct uses each day.
All black and grey water is taken through mechanical and chemical process to convert used water into high quality recycled water used for toilet flushing and irrigation.
With an ultimate capacity of more than a million litres a day, the plant can process not only used water from the precinct, but also that from neighbouring buildings.
This means more recycled water could be exported than the potable water imported.
Centralised waste & recycling facilities
In the last two years, Barangaroo South has diverted more than 2,000 tonnes, or the equivalent weight of about 500 adult elephants, of waste from landfill.
Each month alone, the precinct's compactor chews through 50 to 60 tonnes of food waste before being taken offsite for conversion into green energy and fertiliser.
This wouldn't be possible without the centralised five stream recycling system that all tenants have committed to and the many dedicated cleaners and waste team members.
End-of-trip facilities
Shared amongst all commercial tenants, the end-of-trip facilities include over 1,200 lockers, 1,100 bike racks and 135 showers.
With daily usage numbers up past 1,200 per week day, it has encouraged people to cycle or walk to work or be active during their lunch break. 
Store rooms
There are over 400 rooms in the basement servicing security, cleaning, plant and pump operations and retail.