The New Zealand Institute of Building (NZIOB) has announced the winners of the 2018 New Zealand Building Industry Awards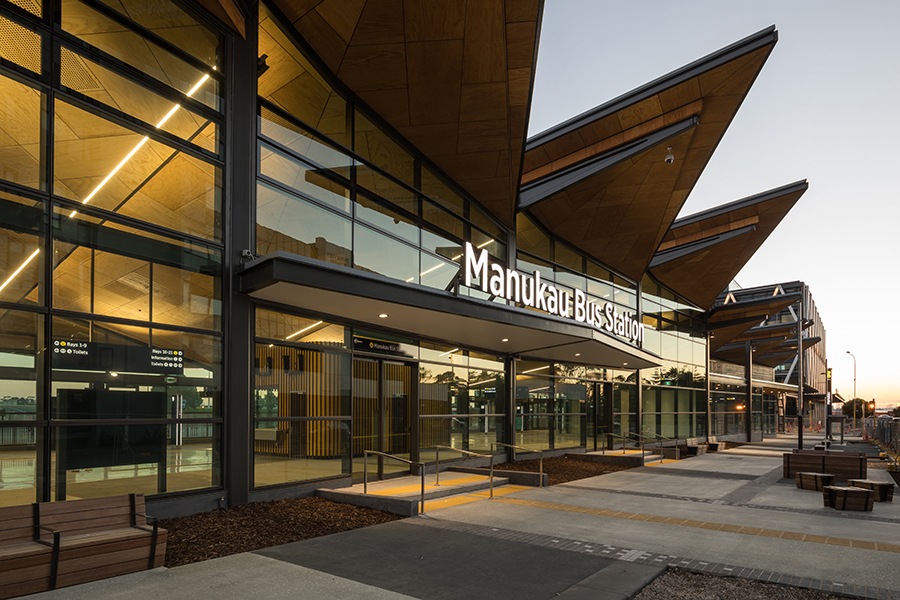 The awards, which are in their 25th year, celebrate and recognise the professional excellence of individuals and teams in the building and construction process, rather than the project or completed structure.
NZIOB Chief Executive Malcolm Fleming says, "The NZIOB congratulates all this year's winners and finalists.
"These awards contribute to the NZIOB's goal ofimproving the standing of the building profession by showcasing the commitment of those working in the sector to excellence.
Fleming says the NZIOB marked the 25th anniversary of the awards programme by introducing new categories:
a Consultants Award
an Interdisciplinary Collaboration Award
and renaming the event the 'New Zealand Building Industry Awards.
"The new name and categories clearly identify that these awards are open to all the occupations involved in the New Zealand building industry and broaden them beyond primarily recognising project managers running commercial construction projects," Fleming believes.
"What hasn't changed is the awards focus on acknowledging and celebrating building industry practitioners behind New Zealand's most successful building projects."
The winner of the 2018 GIB® Supreme Award was Jason Carnie, a Project Manager for Hawkins Construction, for his role in leading the Wynyard Quarter Innovation Precinct project in Auckland.
This project had a tight 20-month timeline and multiple challenges.
The ground was contaminated with heavy metals, petrochemicals and asbestos while the high tide mark sat 1.5 metres below ground.
This required innovative solutions including:
the first New Zealand use of state-of-the-art vapour and waterproof system, Coreflex60; high-level adoption of Building Information Modelling (BIM)
and the development of a new Health & Safety (H&) monitoring system SOS that logged H&S issues via smart phones/tablets.
Several of the innovations created are now being adopted by Hawkins or Precinct Properties across their respective future projects.
The project was delivered on time and within budget.
Young Achiever
This year the judges awarded the BCITO Young Achievers Award to Geoff Nash, Regional Manager Auckland with Brosnan Construction.
Nash, who has wanted to be a builder since primary school began his career as a joinery apprentice at Total Timba on leaving school.
While undertaking his apprenticeship, he completed a National Diploma in Construction Management at Unitec.
In 2009 and 2010, Nash won back-to-back Master Joiners Apprentice Awards, while completing his Diploma.
He has since completed a National Diploma in Quantity Surveying and armed with his trade qualification and two diplomas, Nash decided to seek employment with a main contractor and to enrol in Unitec's Bachelor of Construction Economics.
Now 29, Nash has completed his degree and has just passed the five-year milestone with Brosnan Construction.
He currently leads a team of 30 people that is charged with securing and delivering $40 million of commercial construction projects in the Auckland region annually, and recently led the Auckland team on the successful open-book negotiation for the Spencer on Byron Hotel remediation project.
The judges said Nash was a "standout winner, he has a quest for knowledge that will see him broadening his career to reach whatever level he chooses."
Project cost
The winners of the six Project Cost Categories Awards were:
Resene projects under $5M Award
Winner: Greg Guy, Prosper Northland Trust
Project: Te Kākano (the Seed), the precursor to the larger Hundertwasser Art Centre
Steel Construction NZ projects $5M-$8M Award
Winner: Brendan Keenan, Project Manager, and Gary Davidson, Site Manager; Naylor Love
Project: Christ's College Kitchen Tower Restoration, Christchurch
Hilti NZ projects $8M-$20M Award
Winner: Cameron Orr, Naylor Love, Dunedin
Project: The Otago Polytechnic's new Te Pā Taurira Student Accommodation Village
Colorsteel® projects $20M-$50M Award
Winner: Jimmy Corric, NZ Strong Group
Project: The Manukau Bus Station, Auckland
Allied Concrete projects $50M-$95M Award
Winner: Jason Carnie, Hawkins
Project: 12 Madden Street, Wynyard Quarter Innovation Precinct, Auckland
Winner: Craig Treloer, Project Director, and Phil Helleur, Project Manager, Hawkins
Project: The 350m2 Pier B extension at Auckland International Airport, Auckland
Innovation award
The James Hardie Innovation Award, recognising innovation in the industry demonstrated within a project or through an innovative new product or procedure, was won by Dr Mikael Boulic.
Boulic is a Senior Lecturer at Massey University's School of Engineering and Advanced Technology, Auckland.
The judges found Boulic to be incredibly passionate about his classroom environment monitoring innovation, SKOMOBO.
SKOMOBO is an instrumentation system that monitors CO2, relative humidity, air temperatures, and air-particles inside New Zealand classrooms.
The collection of such data provides a better understanding of what is happening inside teaching spaces, which will ultimately lead to solutions being implemented/developed that will provide healthier, warmer, and drier learning environments.
SKOMOBO costs one-tenth of comparable instruments (approximately $500 vs. $15,000) and has both internal memory and the ability to live feed to a server, therefore making it a perfect tool for long term data collection.
Mikael conceptualised the project, received $100,000 from BRANZ to build a prototype, brought together a team of researchers and supervised the in-house manufacture of the first batch of 150 SKOMOBOs.
These were installed into classrooms throughout the South Island.
He has now secured funding from MBIE to develop an enhanced version of SKOMOBO that will feed live data to a dashboard, enabling schools to see in real-time the environmental conditions inside their spaces.
A referee described Boulic as possessing boundless energy, determination and a huge intellect.
He has the courage to challenge the status quo and to have big goals, matched with a passion to continuously strive for a better way to do things.
SKOMOBO is the result of such talent and focus.
Site safety
The Site Safe Safety Award was won by Safety Wingman Team.
The Wingman Safety campaign had been established by Wellington International Airport Limited (WIAL) for earlier construction projects on their site.
The current Rydges Hotel project at the airport represented version 3 of the programme, which was developed with main contractor, Arrow.
Wingman 3.0 is about everything that happens on-site, whilst promoting a positive worker engagement through all levels of site activities.
It involves:
ongoing regular events
celebrations
awards
'rate a mate'
incentives for near-miss observations and learning opportunities
positive reinforcement
lots of collateral/posters
and a unique site induction video.
The simple premise that a 'safe site is a productive site' has translated to quality and productivity gains, and a higher level of commitment and attitude exhibited by the site team.
What was originally a safety campaign, has become a site culture campaign.
The judges could see that the project team from Arrow had accepted the challenge set by WIAL and have created an inspiring and effective health & safety environment on site. 
Interdisciplinary collaboration
The new Hays Construction Interdisciplinary Collaboration Award, recognising exceptional examples of collaborative partnerships between consultants and contractor, was won by 12 Madden Street. 12 Madden is Auckland's first purpose-built co-working space.
It is a six-storey building comprised of 9,183m² of general office floor area and 3,424m² of underground car parking spread over two basement levels.
The client, Precinct Properties, was very much an active project team member, they drove the culture and challenged all project participants to think outside the box and provide innovative ideas across all project phases.
Beca, Holmes Consulting, Warren & Mahoney, and RLB were engaged as the design team, with the Hawkins engagement based on a two-stage tender (design bid and build) model, prior to the design completion.
This allowed Hawkins to review the design with key sub-trades and provide alternative solutions and options for the design team to consider.
This project exhibited a multi-level degree of interdisciplinary collaboration that was led jointly by the client, design consultants and contractor.
That the identical team has been engaged by Precinct Properties for their next new building project at Wynyard Quarter, underlines the judges view that 21 Madden Street was an outstanding example of project collaboration.
Consultants award
Raji Rai, a Senior Project Manager at The Building Intelligence Group (TBIG) won the Metro Performance Glass Consultants Award. 
New for 2018, this award recognises high performance of design consultants (architects, engineers, quantity surveyors or project managers) who have contributed to the design, documentation and delivery stages of a successful project.
Telecommunications company, Spark had undertaken an asbestos identification and management survey across its property portfolio.
An outcome was that Spark's AT Building in the Auckland CBD was identified as having asbestos contamination that needed removal.
The Building Intelligence Group (TBIG) were engaged as project manager, with Raji Rai representing TBIG.
The biggest challenge was to ensure that the facility was operational during the asbestos removal works.
There was a considerable time pressure overlay to the project also, as Spark had moved the AT Building's 400 occupants into temporary accommodation for the duration of the asbestos removal project.
The project was successfully completed without any single outage to Spark's services and the asbestos breaches reported were able to be contained within the active zones.
The judges were impressed by Raji's total commitment to attaining a result on what was a complex project both technically and logistically.
As the client said, "The scale and risk of the asbestos remediation works within a working voice and data exchange was off the scale."
Simon Barnes FNZIOB, the Convenor of the New Zealand Building Awards Judging Panel, says: "This year we have seen an increased number of entries in each category and once again the calibre of the people being judged by their peers is outstanding.
"The NZIOB recognises the support the finalists and winners have received from their companies, teams and families, which has enabled them to deliver world-class construction projects to their clients and the wider community."
The New Zealand Institute of Building (NZIOB) is the professional institute in New Zealand for building and construction professionals, those who are involved in the Design, Documentation, and Delivery of construction projects.
NZIOB members are skilled managers and professionals engaged in building practice in a managerial, technical, or administrative capacity in construction, installation, designs or survey, and for those engaged in the teaching, science and practice of building and building research.
The NZIOB is an advocate for the construction industry and works with construction industry stakeholders, government, tertiary faculties and media to promote the building profession.
Established in 1994, the NZIOB awards are sponsored by GIB® and are the only Building Industry Awards that celebrate and recognise an individuals' professional excellence in the building and construction process of a recently completed project, as opposed to recognising and awarding the project or completed structure.
The awards are open to any individual or team in the Built Environment whose personal attributes have contributed to the success of a project and who demonstrate individual or team excellence in:
management methods and technique
degree of project complexities
any innovations developed during construction process
relationship with the client, architect, authorities, community and work force (employees, suppliers, subcontractors, etc.)
delivery of quality outcome of the completed project
and project completion on time and within budget.