$6.8 billion of transport projects were announced as part of the Big New Zealand Upgrade. Colliers looks at the projects and considers the influences on our office, industrial and retail sectors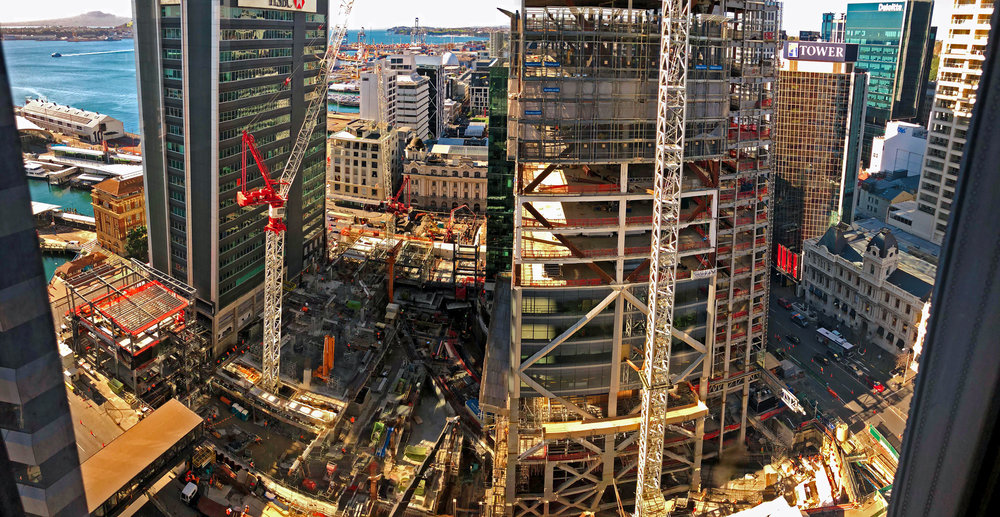 While there is still $4 billion of announcements to come, the latest announcement shows a significant emphasis on roading infrastructure, accounting for $5.6 billion, or just over 80% of the transport programme. Auckland will receive around $3.5 billion or 52% of the transport programme. Some of the projects are a continuation of existing or previously investigated projects. Of the 20 projects announced, 55% are expected to commence construction by the end of 2021. Many of the projects (60%) are forecast to complete in 2024 and 2025.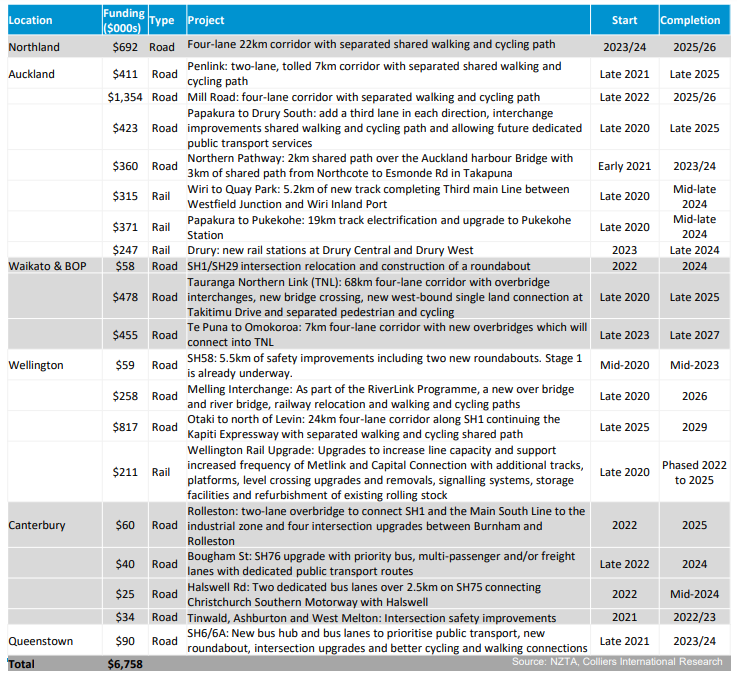 If undertaken as currently detailed, there will be a number of economic benefits that arise from this infrastructure programme. Current estimates suggest the economy could grow by an additional $10 billion over the first five years.
To deliver this growth and cope with the scale and the similar timeframes of the projects across the country, companies looking to participate may need to consider employing more people.
Industry expansion will likely lead to additional office and industrial space requirements and the retail and accommodation sector could also benefit. There is potential that an increase in government employment may be required alongside the private sector to manage the projects appropriately.
Space shortages in some markets could be exacerbated. With employment near record highs, capacity and labour cost inflation will need to be considered so that the potential for excessive price rises are mitigated.
Likewise, a sharp rise in the demand for materials to meet projects of these size could elevate costs for other commercial, industrial and residential projects in the pipeline. If not assessed appropriately, unintended consequences could be rising development costs, rents and asset prices across the property sector.
Office
Over 182,000 sqm of office space was consented in the year to Dec-19, up 24.5% from 146,000 sqm recorded in the year to Dec-18. The growth is a welcomed response to recent record low vacancy rates experienced across major cities in New Zealand, but still below the 20 Year-average sqm consented.
As Commercial Bay completes in the coming months, Auckland's office market will receive its first injection of Premium Office space in five years, since the completion of 151 Victoria Street West (NZME House) in late 2015. Commercial Bay will add over 39,000 sqm of premium office space and is already over 82% committed. The backfill of space from tenants moving to Commercial Bay and a development pipeline of approx. 50,000 sqm of space currently under construction (over and above Commercial Bay) will provide occupiers with some opportunities ahead.
In Wellington's office market, supply is scarce. Approximately 18,000 sqm of office space is currently under construction, but all 18,000 sqm of the space is committed. Refurbishment of stock will provide tenants some options but are quickly being pre-committed. One example is 7 Waterloo Quay (New Zealand Post Head Office) that will provide over 20,000 sqm of office space but is already 82% committed.
Industrial
2019 was another year of strong performance and growth for the industrial sector. Despite increasing levels of developer activity, many projects are design-build and therefore pre-committed.
However, speculative-builds are becoming increasingly popular in some locations when compared to the previous year. This is assisting with strong levels of tenant demand, however, many premises become leased before completion.
Data derived from Stats NZ suggests an increase in the value of building consents for factories, industrial and storage buildings in recent years, most significantly in Auckland. Some reprieve was experienced for Auckland between 2018 and 2019.
Retail
The January 2020 ANZ-Roy Morgan NZ Consumer Confidence survey found confidence has held steady at 123 points, following 3 consecutive increases since September 2019. The survey also found a net 49% of respondents believe it's a good time to buy a major household item, up significantly from the 36% found in the October 2019 survey.
The positive outlook of New Zealand households is being driven by more signs of wage growth, low interest rate environments and the current rise in the housing market. A correlation can be seen between the house price index and private consumption, likely to be influenced by consumers who own their own home.
As the housing market takes approximately 12 months to have an impact on consumer spending habits, the rise in private consumption to is likely to have a flow-on effect on retail sales, suggesting potentially more positive times ahead.