Swiss based building industry giant Holcim plans to import and distribute lower carbon cement replacement products from a new Low Carbon Cement Replacement Facility currently under construction in Auckland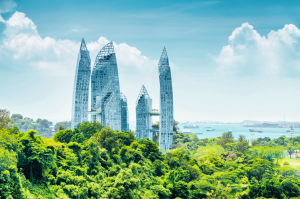 The initiative was started well before the New Zealand government released an Emissions Reduction Plan in mid-May this year.
Holcim New Zealand was quick to show support for the government plans to pilot the end of industrial allocation within the cement industry, in favour of transparent pricing of carbon combined with a border adjustment mechanism.
"New Zealand is an exciting market. Construction has gone from strength to strength despite the challenges of the pandemic. And the New Zealand construction industry understands the importance of decarbonisation," says CEO for Australia and New Zealand George Agriogiannis.
Concrete is the most-commonly used building material in the world and a key component is cement, which has high embodied carbon due to its manufacturing process.
Currently, every year around 1.6 million tonnes of traditional cement is used in New Zealand, equivalent to approximately 1.3 million tonnes of CO2. By replacing cement with a product which has lower embodied carbon, but similar properties, construction-related embodied carbon can be significantly reduced.
"In similar markets like Australia and the UK, replacement of normal cements with low carbon cement replacements averages 26 percent. In New Zealand it is more like two percent"
Holcim is working with the construction industry with the aim to achieve 25 percent replacement by 2025.
"At 25 percent replacement, we estimate embodied carbon in the New Zealand construction industry will reduce by around 300,000 tonnes per annum – equivalent to taking well over 100,000 petrol cars off the road each year," says Agriogiannis.
For Holcim in our part of the world, this involves the use of local and Australian fly ash and ground granulated blast furnace slag from Japan. "We will be offering blended low carbon cements, consistent with our global EcoPlanet range as well as Supplementary Cementitious Materials such as Ground Granulated Blast Furnace Slag, recycled from by-products of the iron making process," says Larcombe.
"Every part of the construction industry has been challenged by the supply chain disruptions induced by the global pandemic. Crucially, Holcim has been able to leverage off its global capability to not only ensure Holcim's usual customers have been able to continue building, but also ensured the whole construction industry could continue to grow as domestic demand has exceeded local manufacturing capability," says Agriogiannis.
The new product range look certain to help maintain that edge. "These new products will absolutely deliver much lower embodied carbon," says Larcombe. "They also offer superior performance over standard cement. Depending on application there are significant benefits.
"In precast, they produce a superior, whiter finish. In marine and wastewater applications, they offer a more resilient concrete. In mass concrete they can reduce issues with heat generation during hydration. The benefits of these new products goes on and on,"
"I'm pleased Holcim is progressing to the building phase of a facility that will import and distribute low carbon cement replacement products. Once operational, the site will enable reduction of carbon emissions via a cement replacement which can be used for applications such as infrastructure, commercial and residential projects.
The facility will be adjacent to the company's existing cement import terminal at Ports of Auckland and, at peak operation, is expected to enable replacement of just under 100,000 tonnes of Ordinary Portland Cement, which will substantially reduce greenhouse gas emissions.
Annually, this is the equivalent of removing approximately 78,000 tonnes of carbon dioxide (CO2) or 40,000 cars from the roads.
Holcim was the first global building materials company to sign the United Nations Global Compact "Business Ambition for 1.5°C" initiative, with 2030 targets validated by the Science Based Targets initiative (SBTi).
The company says sustainabilty is at the core of its strategy as to the make transition towards low carbon construction and driving a circular economy.
The company recently announced its 2050 goals, the first long-term targets in the building materials sector to be validated by SBTi.