Colliers International is to begin selling apartments in Toru, a development of 230 freehold apartments in Remarkables Park, Frankton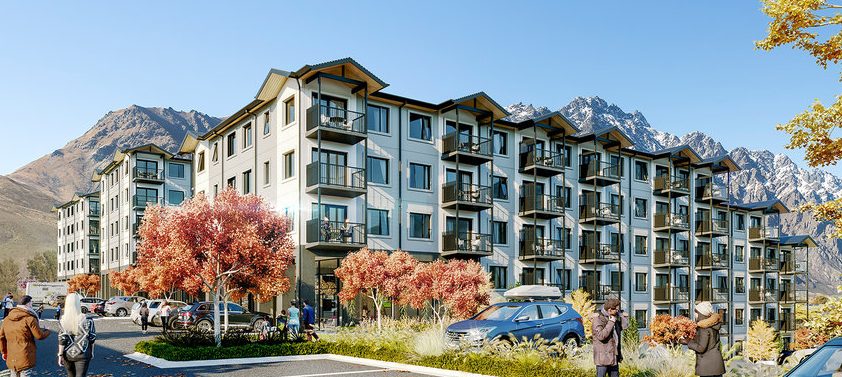 This highly anticipated project is a unique offering in the Queenstown property market.
The project comprises three buildings of six to seven levels, two of which are being sold to the public.
The third building is being kept by developer, New Ground Capital (NGC), as long-term rental stock for locals through its subsidiary, New Ground Living.
The first 28 units being sold on the open market are on the top three levels in Toru East and are expected to sell quickly with their unobstructed alpine views.
The Queenstown Lakes Community Housing Trust has already demonstrated its confidence in the development by purchasing 50 units in the lower levels of the building.
With one, two and three-bedroom apartments and prices starting from $495,000, Toru is a compelling proposition for home buyers and investors, being the lowest-priced new freehold residential dwellings in Queenstown.
"There is a severe shortage of affordable housing and long-term rentals in the district, partly because there are almost no high-density developments here yet," says NGC Managing Director, Roy Thompson.
"Toru is part of the solution – an innovative development that caters to both sectors of the market, with enough scale to keep the prices affordable whilst still delivering high-quality apartments."
Architecturally designed, and inspired by chalet design and the local vernacular, the buildings have rows of balconies with gable roofs that give shape and rhythm to the long facades.
Large picture windows provide natural light and a beautiful outlook.
Residents will enjoy well-appointed apartments featuring storage and full-sized kitchens and bathrooms.
All units offer open plan living that opens onto a balcony or private court.
There is also a car park for every apartment.
Toru has an excellent location in the heart of Frankton, adjacent to the Remarkables Park Town Centre – just 5 minutes' drive from Queenstown Airport and 15 minutes' drive into Central Queenstown.
Toru is close to Remarkables Primary School and Wakatipu High School, two major shopping centres, the public transport hub and all major arterial roads. It is also an easy walk or cycle to Queenstown's Twin Rivers trail.
It is ideal for those that live and work in the area, or for out-of-towners looking for an easy, low maintenance lock-and-leave.
Investors will be attracted to the opportunity of purchasing in an area of key infrastructure investment and development. Proposed yields of circa 5.7 per cent are based on projected residential rental returns at current market rates.
Site works are well underway and vertical construction will commence in spring 2018. The first building, Toru East, is expected to be completed in October 2019 with the rental units in Toru Central ready for occupation in March 2020.
"We are very excited to be selling such a ground-breaking new development," says Fred Bramwell, Sales Consultant for Colliers International in Queenstown.
"With its competitive pricing, amazing location and architecturally-designed apartments, we expect it will sell down quickly so don't delay getting in touch with us."
Find out more at www.toruapartments.co.nz