The impact of ongoing economic headwinds and Cyclone Gabrielle is reflected in REINZ's latest figures, but some data returns to 'normal' amidst a big clean-up job across the upper north and eastern North Island
The Real Estate Institute of New Zealand's (REINZ) February 2023 figures show a lesser rate of decline in annual median prices and sales counts, with stock levels returning to normal levels.
"February traditionally shows a reasonable month of activity but the impact of extreme and devastating weather over the start of 2023 is certainly showing in the data with sales and listings significantly down in affected areas," REINZ Chief Executive Jen Baird says.
"We may continue to see this for some time in parts of Northland, Auckland, Tairāwhiti Gisborne, Hawke's Bay, Coromandel and Bay of Plenty."
Auckland's listings were down 36.9% from 4,365 to 2,755 year on year, and Tairāwhiti's down 54.4% year-on-year from 68 to 31 new listings. Nationally, new listings decreased by 29.5%, from 11,545 listings in February 2022 to 8,143 listings in February 2023.
"Even though new listings are down as communities respond to the weather and the anticipation of economic adjustments ahead, inventory levels are now showing a return to standard levels after a few years at historically low levels.
"When we looked at the trend over a ten-year period, we can definitely see the return to normal stock levels," suggests Baird.
At the end of February, the total number of properties for sale across New Zealand was 29,083, up 5,813 properties (+25.0%) year-on-year, and up 4.9% from 27,732 month-on-month. New Zealand excluding Auckland was also up from 13,253 to 18,656, an increase of 5,403 properties (+40.8%). Month-on-month, inventory was also up 4.9% from 17,781 properties. This means there is plenty of choice for buyers in the market today.
The number of residential property sales across New Zealand eased annually by 31.1% from 5,750 in February 2022 to 3,964 February 2023. Month-on-month there was an increase of 40.4%.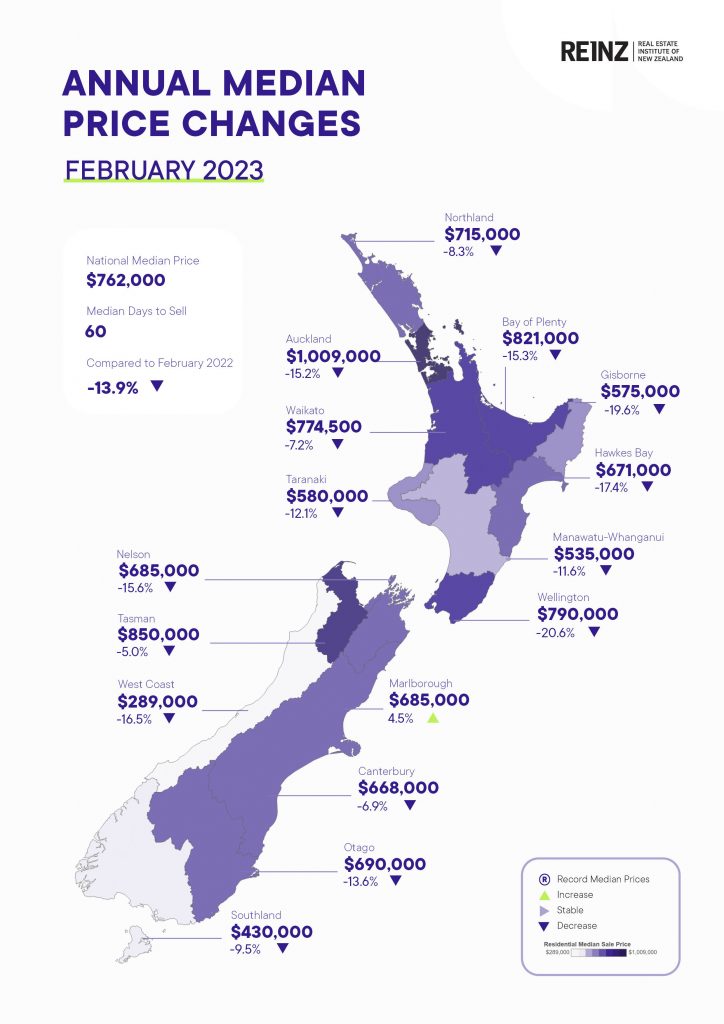 Across New Zealand, median prices decreased by 13.9% year-on-year to $762,000. However, when comparing to January, the median sale price increased across most of the regions. Auckland saw a 7.0% increase, tipping back over the $1 million price point.
Median days to sell were at 60 days for February 2023 — up 18 days annually compared to February 2022 and had a small increase of 6 days from 54 when compared to January 2023.
"Our seasonally adjusted data shows that when compared to what is typically observed moving from the month of January to the month of February, all regions except Taranaki and Tasman had smaller gains in sales count month-on-month than what would be expected. In other words, even though the sales count change from January to February looks significant, we would typically expect greater increases based on what has been observed historically."
Rising interest rates, increased cost of living and inability to secure finance are still having an impact on buyers, but REINZ members are telling of returned activity at open homes in areas that weren't as impacted by Cyclone Gabrielle," adds Baird.
The REINZ House Price Index (HPI) for New Zealand which measures the changing value of residential property nationwide showed an annual decrease of 14.2% for New Zealand and a 12.3% decrease for New Zealand excluding Auckland. This is a small increase from last month, 0.1% and 0.3% respectively.
Century 21 New Zealand Owner Tim Kearins says rising interest rates, cost of living increases and the ongoing struggle to secure finance continue to hamper the market.
"Thankfully in recent weeks, many of our offices and agents are reporting more enquiries and more activity at the likes of open homes and auctions.
"A bump in sales in February is to be expected, but increasingly, vendors seem keen to meet the market. They know that it will be a tough winter with a possible recession later this year and consumer and business confidence worryingly low," he says.
"Buyers are cautious and so it's not surprising that it's taking longer to sell properties. However, the good news is we are seeing some stabilization.
"We can take some small comfort in the fact that most regions have seen an increase in median sales prices in the past month, including Auckland despite the impact of the weather events," says Kearins.
Plenty of good properties were still making money.
"While new listings may be down, not helped by the weather disasters, overall stock levels nationwide are returning to more normal levels. More houses for sale thankfully means more choice for buyers."
For more information and data on national and regional activity visit the REINZ's website.