Viridian Glass has officially opened a new state-of-the-art processing plant in Highbrook, Auckland. The mult-imillion dollar investment represents a significant commitment to the New Zealand market.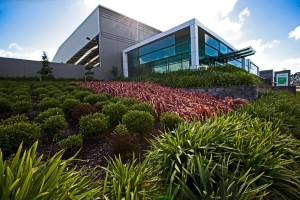 The purpose-built facility has amalgamated the company's Auckland operations under one roof. The move involved expanding Viridian's existing Highbrook footprint by 160 percent to accommodate the Mt Wellington and Auckland Airport operations, and now totals over 17,000sqm.
Viridian Glass New Zealand chief executive Lars Bloch-Kristensen says: "The new facility at Highbrook has united our three Auckland glass processing sites to satisfy an ever-increasing demand for bespoke glass solutions. This significant investment has created a semi-automatic factory with flexibility integrated into its design, allowing us to adjust production swiftly to meet customer demands."
Mr Bloch-Kristensen says that the future of glass products is bespoke design. "New Zealanders don't want cookie-cutter building designs, so every house and building is different and requires a tailored glass solution. Our new glass processing plant's in-built flexibility enables Viridian Glass to introduce new and innovative forms of glass solutions to the residential and commercial sectors efficiently.
"We are just beginning to see product solutions with glass as a key component for places where people work, live and play. Technology will be integrated into today's glass products in ways we can't imagine now and we will see the boundaries for traditional processing continually challenged."
Viridian Glass is owned by CSR Building Products, which includes brands such as Bradford Insulation, Monier Bricks & Roofing, Potter Interior Systems, AFS Walling Solutions, and Hebel Autoclaved Aerated Concrete.
"As part of CSR's building and construction products family, we can collaborate with our partners to create complete building systems. This relationship connects us to the whole building and construction industry; we're not isolated," says Mr Bloch-Kristensen.
Viridian Glass celebrated the factory opening with more than 200 guests at its Highbrook site including minister for Economic Development Steven Joyce, and architects, builders, engineers, glass industry specialists and local government officials.