Hong Kong is the city with the world's highest rent for a premium office, with London and New York in second and third place respectively, according to JLL's latest Global Premium Office Rent Tracker.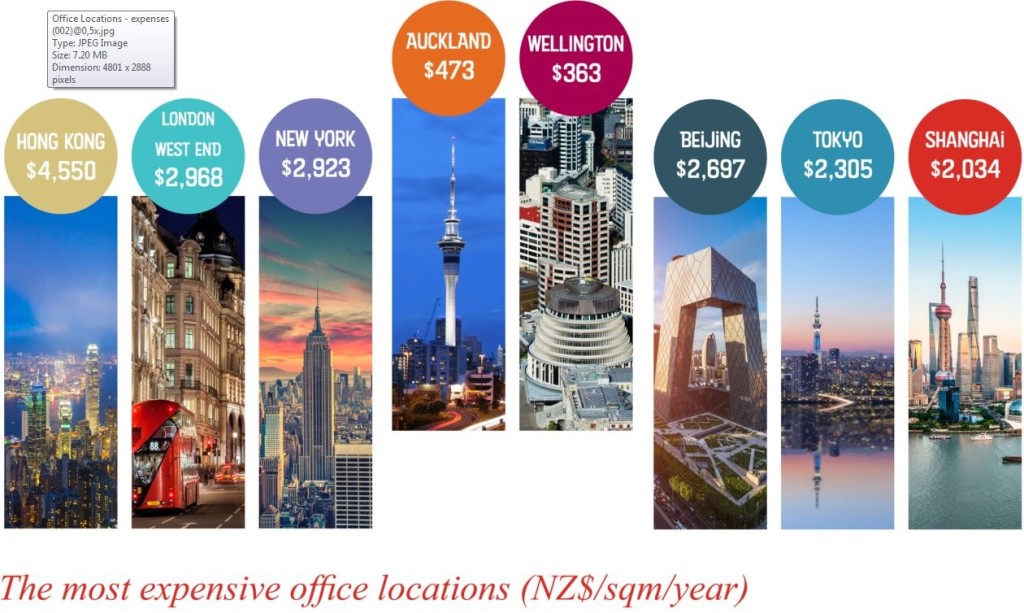 JLL New Zealand's head of markets Mark Grant says that while rents in Auckland and Wellington continue to rise, New Zealand offers excellent value for money by international standards.
"Renting premium office space in our two major business centres is 10 times cheaper than Hong Kong and more than four times cheaper than Shanghai," he says.
"While we've seen some volatility in these markets, Auckland is predicted to go from strength to strength over the coming year. And the recent earthquake which has affected the Wellington market will ultimately underpin the value of quality stock there too," he says.
"Space in one of Auckland's premium office locations will cost you NZ$473 per square metre a year, versus NZ$363 in Wellington.
"Look for a Class A building with excellent facilities in Hong Kong however, and you'll pay NZ$4,550 per square metre per year.
"In London's West End, you'd be looking at NZ$2,968 per square metre per year and NZ$2,923 in New York."
JLL's head of research for Asia Pacific, Megan Walters, says Hong Kong's premium rents have reached new heights this year, pushed up due to strong demand and shortage of stock as companies from Mainland China look to have a base in Hong Kong.
"Hong Kong's Central district is being reshaped as western banks and financial institutions downsize or move out due to global challenges such as slower economic growth and increased compliance and regulations. Mainland Chinese wealth and asset companies are moving in as they seek to boost their presence in Hong Kong.
"Both Beijing and Shanghai fell a place to fourth and sixth position respectively. Tokyo leapfrogged past Shanghai to take fifth spot, propelled by high leasing activity and big-ticket pre-commitments, while New York has seen premium rents increase by more than 10 percent in 2016.
"The world's most important and interconnected cities dominate the top spots in the rankings," Walters says. "There is a clear demand for them, as demonstrated by vacancy rates being less than 2 percent in three out of these six gateway cities, specifically Hong Kong, Beijing and Tokyo."
About the JLL Global Premium Office Rent Tracker
In this second edition, the report compares like-for-like occupation costs across 35 major markets in 31 cities of differing function and evolution, ranging from Established World Cities (such as New York, London and Tokyo) through to Emerging World Cities (like Mexico City Moscow and Mumbai) and New World Cities (as typified by San Francisco, Sydney and Toronto). The Tracker includes the key elements of occupancy costs – net effective rent, service charges and property tax – all standardised to enable international comparisons.
The top 10 most expensive city districts for renting office space
Hong Kong, Central
London, West End
New York, Midtown
Beijing
Tokyo
Shanghai
Delhi
San Francisco
London, City
Hong Kong, Island East
To download the report click here.