With increasing amounts of data being requested and stored online, new privacy measures are in great demand.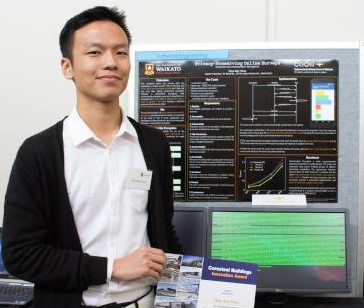 Tackling this problem is Thye Way Phua, an engineering student from the University of Waikato, who has been awarded the Coresteel Buildings Innovation Award worth $5000 for his efforts.
The award was presented at the University of Waikato's Engineering Design Show, held 17-19 October.
Using software engineering, Thye Way has devised a way to make online survey results more secure.
"Most online survey results are not 100 percent secure and those systems that claim to be, only deploy end-to-end encryption. However in end-to-end encryption, while communications between a user and a cloud service is encrypted, the system needs to decrypt the data in order to process it for results. It is during the decryption process that sensitive data is at risk of exposure," says Thye Way.
The solution uses partially homomorphic encryption, which Thye Way researched and tested throughout his degree this year. The method eliminates the need for decryption, while still retaining accuracy in the collected data.
"Thye Way identified a real world problem and provided an innovative solution. Encouraging the next generation of engineers was the goal for this award and I have no doubt Thye Way will go on to even bigger and more complex projects as he continues his studies," says Kyle Donovan, director of Donovan Group and University of Waikato alumna.
Thye Way moved to New Zealand in 2013, to study engineering at the University of Waikato. He is on track to complete a Bachelor of Engineering (Honours) degree with first class honours, and next year will begin a PhD with the university's Cyber Security Research Unit.
Coresteel Buildings is a New Zealand-owned company which constructs commercial and industrial steel frame buildings.