A unique team-building exercise saw 18 staff from the Chow Group and sister company Inno Capital build three bicycles from scratch to help children battling adversity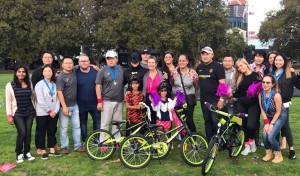 "We kept the activity a secret from both teams and when it was revealed, it was received very positively," Chow Group Management Ltd Director John Chow reveals.
"I think because everyone contributed to the construction of the bikes and worked together as a team, using communication skills and formulating a plan, it achieved our goal.
"The emotive appeal of this particular activity was that we gifted the bikes to children in need through Stand Children's Services, a charity that provides specialist home and school social services for 5-to-12-year-olds."
Chow feels strongly about giving back to society and encourages others in the private sector to look at ways to integrate team building with giving.
"It's not just a government job – I see it as part of our responsibility in the private sector." 
He explains that offering support doesn't need to cost the earth, and that there are many ways to bring your team together to do something good in the community.
"At the Chow Group we are very active sponsoring sports, charity lunches and fundraisers but on this particular occasion rather than just donate at a corporate level, we involved our team members and I think the value derived by each of them and the 'feel good factor' far surpasses anything else."
Stand Children's Services is a charity that provides therapeutic care, education, specialist home and school social services to children aged 5 to 12.
The charity works to transform the lives of children who are at significant risk of harm as a consequence of the environment in which they are being raised.
Stand aims to develop the capacity for each child to live in healthy, hopeful relationships with others, through a daily focus to protect children from further trauma, support their recovery and enhance their wellbeing
Three principles underpin the Stand Children's Services approach:
harm caused by relationships is best healed by relationships
that a child's home and family, school and teachers, neighbourhood and friends all play a critical role in a child's world and each system requires attention to improve a child's quality of life
transformative environments that provide therapeutic relationships and experiences of belonging, mastery, independence and generosity are quicker and more effective for a child's journey of recovery.
Programmes provided by Stand Children's Services for children and young people include Children's Villages, KidzaCool Adventures, Seasons for Growth, Storm Birds, Journey of Hope, Kids with Incredible Potential (KIP), Healthy Heroes and a variety of other programmes that address the individual health, education and social needs of children. Find out more at http://standforchildren.org.nz/