The winning design in an international architecture competition to find a new high-rise tower for Auckland is a building for the people – from its street level "Market Place" to its rooftop Zen Garden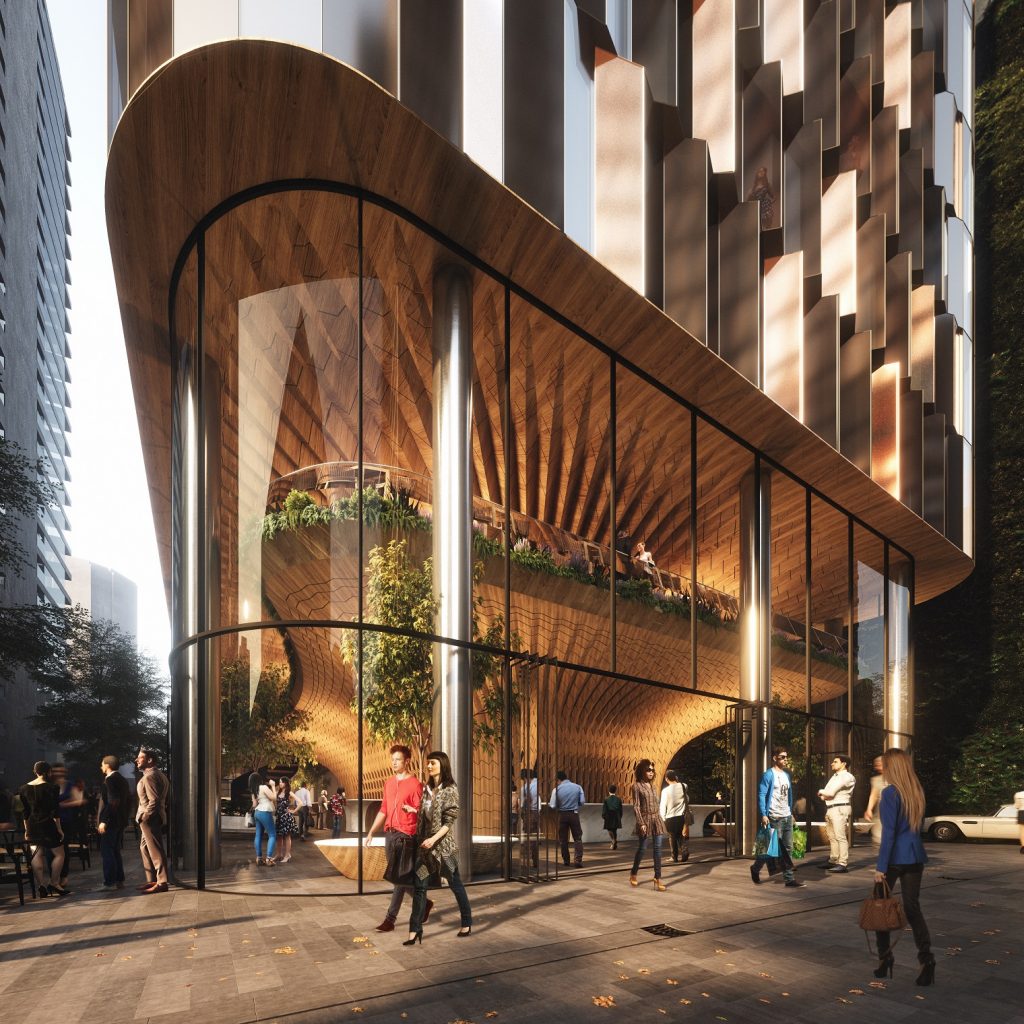 Designed by Melbourne-based architects Woods Bagot, in partnership with local New Zealand firm Peddle Thorp, the building is a sleek and crystalline 48-level tower that will stand around 180m high.
Located at 65 Federal St, a block away from the 237m high Sky Tower, the multi-use high-rise will have 226 apartments, a 233-room 5-star hotel, and a ground floor Market Place with everything from vendors selling local produce through to eateries and bars.
Woods Bagot principal and design leader Peter Miglis says the building design is inspired by New Zealand's natural landscape and the country's unique geology and fauna.
"That has been our place of inspiration," he says.
"It is a strong, city-defining tower with an elegant silhouette that is enduring for the skyline of Auckland and provides a companion to the city's iconic Sky Tower."
The design competition, run by Melbourne-based property development company, ICD Property, saw 10 designs created by London-based architects Zaha Hadid, locals Warren and Mahoney, and international firms Cox Architecture, Elenberg Fraser, and Woods Bagot.
Each architect partnered with a New Zealand firm – Woods Bagot teamed up with Peddle Thorp, Zaha Hadid and Cox Architecture with Opus, and Elenberg Fraser with Jasmax.
The architects created two designs for the competition, with the first design following current city planning rules and the second showcasing what could be built with generous planning regulations and a primary focus on design excellence.
ICD Property will bring Woods Bagot and Peddle Thorp's design to life on the Federal St site with the $200 million project expected to be completed around 2022.
Peddle Thorp NZ Director Richard Goldie says the design has a strong sense of place and community which will be highlighted by the extensive use of dramatic curved and pleated timber in the building.
"Our major civic buildings, the Auckland Museum and Auckland Art Gallery, both use timber to stunning effect," he notes.
"It's the material with which we privilege our most significant buildings and the curved timber designs we have created will be prominent on the lower levels of 65 Federal St for everyone to see and share."
Michael Mai, ICD Property Managing Director, says the company has been overwhelmed by the positive response to the approach it has taken to find a world-class tower design for Auckland.
"We're extremely excited and proud to be able to deliver this project in New Zealand," he exclaims.
"We see this tower as an opportunity for Auckland to set a new benchmark for quality and liveability, and it will be a project that is led by design excellence to achieve better urban design outcomes, not just for New Zealand, but around the world."
Miglis says a key focus for the design was to ensure the tower was an inclusive public space – right from street level to its roof top Zen Garden with 360-degree views of Auckland.
"We know that the skyline defines a city's identity, yet it is the streets – where people inhabit the city – that define its character.
"So, understanding the future vision for Auckland was important when designing the building's lower level.
"Through Federal Street's transformation into a pedestrian laneway, it has the potential to become a public destination, like a town square or public plaza, and that's very much what we had in mind with the idea of a Market Place where local produce is on sale alongside restaurants and cafes."
Architect and urban designer Julie Stout, who was on the selection panel, says the design will greatly enhance Auckland's skyline but the detail and thought put into the lower levels of the tower was key.
"The most elegant thing that Woods Bagot and Peddle Thorp did was address the street," she explains.
"They created a very active urban people space and populated it with every day activities like eating, shopping, and a market type environment.
"This area of Auckland is going to see exponential growth in the next 10 years with the Convention Centre, more hotels in SkyCity, and the City Rail Link being finished," Stout adds.
"There is going to be a flood of people into that area and Federal St will be a terrific laneway street and this building will create an interesting community building."
Matthew Khoo, Deputy Managing Director ICD Property, says the project is a coming together of international design excellence and local knowledge to produce a timeless and sophisticated design.
"We want to build a building that stands the test of time," It's really going to bring a greater focus on Auckland itself as a destination internationally."
Khoo says the design competition process was hugely successful in allowing ICD to assess several unique and high-quality options for the site.
"Although we would love to create all five towers, and hope someday we have the opportunity to, Woods Bagot and Peddle Thorp's design emerged as the winner because the overall scheme fully considered what's best for Auckland's City Centre.
"From ground floor retail to the hotel above that will help fuel Auckland's rising tourism market, the tower adopts a holistic approach that contributes to Auckland's future growth and development in a positive way for residents, businesses, and visitors."
"This is really how you extract great design for a city and for its people," Khoo claims.
"What this is going to bring to Auckland is a real conversation, to say, 'We can achieve better for the city, and let's implement this more broadly to get better design outcomes for the people'."