Strong investment demand has pushed yields for Auckland industrial property to record low levels, but can these go lower Alan McMahon asks?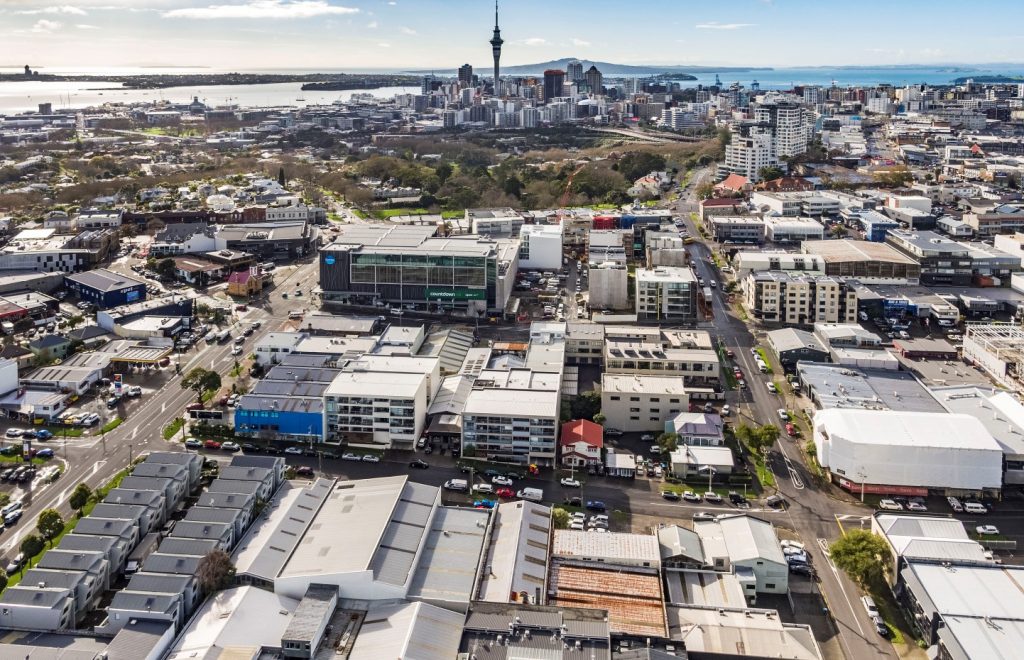 The overall industrial vacancy rate in Auckland reached a historic low at the start of 2017, at 1.9%.
The latest rate in February 2018 has nudged higher, to 2.2%, but not enough to alleviate the pent-up demand.
At the same time, prime combined net rents have grown strongly at 4.3%.
The BNZ – BusinessNZ Performance of Manufacturing Index (PMI), and the ANZ Truckometer point to an expansionary economy, another key indicator of demand for industrial space.
GDP forecasts have been dialled down but nothing to suggest a sharp slowdown in the industry in the short term.
Interest rates have been at cyclically low levels and forecasts suggest that increases are a while away – maybe Q3 2019. This encourages initial yields towards future compression.\
The spread between average prime yield and an indicative cost of debt (taking the 90-day bank bill rate plus a 2% margin) is 2% as at March 2018.
Average prime industrial yields in Auckland are at 5.8%, less cost of debt plus margin at 3.8%.
During the market lull in September 2009, the gap was 3.6%. In the most active years (2015-2016), the spread was between 1.1% and 1.9%.
The current spread, although tightening, still provides an acceptable return for many investors or owner occupiers and enables them to bid at higher prices while still achieving a margin over debt cost.
Looking at other industrial indicators, the yields achieved in recent industrial sales certainly shows momentum for prime industrial yields to dip further.
Industrial properties sold in Wiri and Airport Corridor have achieved yields recently between 4.8% and
5.5% for assets within the popular sub $10 million bracket.
Another reason for yields to track lower is positive rental growth expectations, encouraged by the low vacancy.
The latest building consent values in Auckland totalled $135 million for factories and industrial buildings in the year to January 2018, nearly double that from 2017, suggests some relief may be on the horizon.
Unlocking new areas
The government last month released a revised Auckland Transport Alignment Package (ATAP), setting out how it will spend $28 billion on key transport priorities for Auckland over the next decades.
The announcement didn't bring too many surprises, with light rail, Penlink, Mill Road and various roading/bus upgrades all getting the green light.
Back on the table is the East West Link, but at a much-reduced project cost.
From an industrial property perspective, the Mill Road corridor upgrade will provide an additional strategic north-south corridor for southern Auckland, connecting Manukau and Drury to the east of the Southern Motorway.
It will help unlock new developments to the south in Drury, and support the growth in property demand over the long term. 
Office space tight
There is only around 103,000 sqm of available stock in the Auckland Metropolitan office market, despite around 36,000 sqm of new prime office supply across eight buildings being completed in 2017 and the beginning of 2018.
Overall vacancy decreased from 6.4% in March 2017 to 6.1% in March 2018.
Prime vacancy decreased from 6.2% to 5.8% and secondary vacancy decreased from 6.5% to 6.2%.
Prime vacancy on the North Shore increased the most, especially in Takapuna with the recent completion of the B:Hive.
Vacancy in the City Fringe precincts decreased the most, especially in K'Road, as buildings have been removed from the stock for redevelopment or refurbishment.
Retail developing nationally
Tauranga Crossing is a multi-staged development in Tauriko.
The first stage opened in late 2016. The second stage is expected to partially open in October 2018 with 20 new stores.
April 2019 is the target for full completion with a cinema and entertainment precinct as well as international fashion retailers.
Stage three is in the pipeline and will add a further 12,000 sqm of retail space making it the largest retail drawcard in the region, with a total of 73,000 sqm.
Northlands Shopping Centre in Christchurch is currently undergoing a $18.8 million redevelopment.
Kiwi Property will develop a new dining and entertainment precinct called 'Langdons Quarter'.
Two new buildings will accommodate 12 new licensed casual dining operators and is scheduled for completion in October 2018.
The development of Queenstown Central is underway in Frankton. Stage one will comprise of 10,000 sqm of retail and 4,500 sqm of office space.
The development is anchored by Kmart, speciality shops, restaurants and bars and is expected to be completed in Q3 2018.
Industrial index barometer
The ANZ Truckometer Index tracks traffic flow as a proxy for the country's economic activity. The index shows a strong correlation with GDP.
The Heavy Traffic Index corresponds with current GDP, while the Light Traffic Index gives a six-month lead in the direction of the economy.
The March 2018 data shows the Heavy Traffic Index dropping 0.3% month on month while Light Traffic Index increased by 2.2%.
This index is giving softer signal for growth from mid-year.
Alan McMahon is Colliers International National Director Research & Consulting